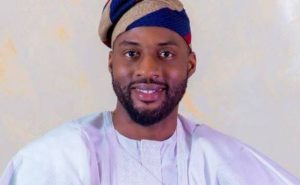 By Seyifunmi Odunuga
IBADAN – The Speaker, Oyo State House of Assembly, Hon Adebo Ogundoyin has described as shocking, painful and sorrowful death of Mrs. Abigail Makinde, the mother of Governor Seyi Makinde, saying the loss of a dear mum is huge and ever tormenting.
Governor Makinde's mum reportedly died early morning of Thursday, October 14, 2020 during a brief illness.
The Speaker while commiserating with Governor Makinde and indeed the entire Makinde's family in Ibadan said Oyo State had lost a true mother and a prayer warrior.
In his statement, "Though Mama was in her early eighties, but her demise was unexpected at this period when we were benefiting from her elderly experience, counselling and prayers.
Hon. Ogundoyin noted that the good life Mama Makinde lived was evident in the way she painstaking and devotedly tutored and raised her children who are all great ambassadors of the family and Oyo State.
"Mama was bubbling with health, life and energy when her children celebrated her 80th birthday. Everyone thought Mama would be with us till one hundred years. But alas, cold hands of death snatched Mama away at this very suspicious time. She was such a caring, loving and supportive mother anyone would wish for.
"I simply and deeply sympathize with His Excellency over this loss and I understand immensely the grieve in your heart. You were a precious gift to your children and indeed Oyo State as you touched so many lives positively", the Speaker posited.
Hon Ogundoyin maintained that in spite of the fact that death is inevitable, we all still grieve when we lose our beloved ones, especially our parents adding the death of the Governor's mother was saddening.
He added, " One wonders where we can get such heartfelt love and care usually lavished on us by our mothers, hence Governor Seyi Makinde should take solace in the enviable fact that Mama lived a fulfilled and good life that everyone is proud of. Mama will surely be missed, not only by the Makinde's family at Aigbofa Compound, Oja'aba, Ibadan, but also across the length and breath of Oyo State. May her gentle soul continues to rest in the bossom of the Lord until we meet to part no more. Amen" Ogundoyin said.