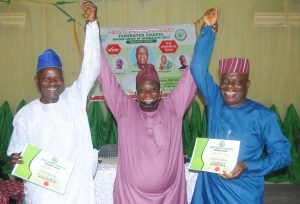 By Raymond Osho
ABEOKUTA – The just-concluded election of the Federated Chapel of Nigerian Union of Journalists (NUJ), Ogun State Council marked a new era of with the Publisher and Chief Executive Officer of StarTrend International Magazine Elhadj AbuSatar Idowu Hamed emerging as the Chairman.
The Free, fair and credible election which was held on Monday, July 27, 2020 at the NUJ Secretariat, Iwe Irohin, Abeokuta, enjoyed proper observation by both National and state Council of the Nigerian Union of Journalists with security operatives in attendance.
AbuSatar who spoke to Journalists shortly after he was declared winner of the contest insisted that those parading themselves as authentic aside the constituted body of the chapel are fake journalists who are not certificated in the profession.
He argued that the only recognised and authentic faction of the chapel was the one whose election was backed up by the National, state body and the constitution.
"We all know that this election was held with the observation of the National body, that is the Zone B of NUJ together with the State Council, so that's the authentic exercise," he said.
The newly elected Chairman of Federated Chapel of Ogun NUJ hinted that letters had been sent to concerned stakeholders for recognition of the newly elected body.
His words, "We have sent letters to all concerned stakeholders in this State for recognition of the newly elected body, so anybody parading themselves aside from this respected and constituted body of Federated Chapel, Ogun State are fake Journalists and respective publics should be careful whenever they need the assistance of the media within and outside the state."
AbuSatar who ascribed his success to God and unflinching support of his professional colleagues said, "I want to thank God and all those that are involved in the preparation and execution of this electoral process. I am happy and I give glory to God for the success of this exercise that will definitely usher in new dawn in the Ogun state Federated Chapel."
Read full text of his speech on the occasion:
Acceptance Speech delivered By AbuSatar Idowu Hamed, Chairman, Federated Chapel of Nigeria Union of Journalists (NUJ), Ogun State Council on Monday, July 27, 2020 At Ogun NUJ Secretariat, Iwe Iroyin, Oke- Ilewo, Abeokuta, Ogun State.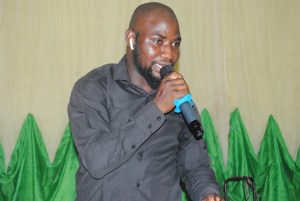 The Zonal Vice President of NUJ
The Chairman, Ogun State NUJ Caretaker Committee
The Chairman Caretaker Committee/Electoral Committee of the Federated Chapel
Distinguished Colleagues
Ladies and Gentlemen
Good Afternoon,
It is a great honour for me to be here this afternoon to accept the position of Chairman, Federated Chapel of the Nigeria Union of Journalists (NUJ), Ogun State Council, an organisation that is made up of Community Publishers and Editors that are professionally certificated.
Before I proceed far in my speech, I want to crave your indulgence to present my gifts of appreciation to the members of the Caretaker/Electoral Committee of the Federated Chapel for their success in a quest to organise a credible election, backed by the NUJ constitution and the support of leadership of our respected union at the National, Zonal and Council levels.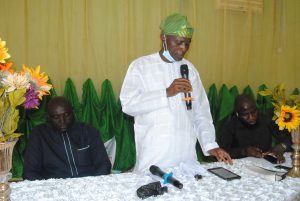 Sirs, We thank you so much and are indeed grateful to you.
Kindly permit me to unequivocally state here that our mission primarily, is to reposition (if you like restore) the dignity in the journalism profession through transparency, constant informing, educating and entertaining the general publics through our fresh and authentic news publications.
It's very sad to note that over the years, our Chapel as a veritable source of fresh and authentic community news hasn't used maximally, the window of opportunities that abound in the state. However, as a pathfinders of great ideas, we will continue to build on our strengths, but also take on new directions.
We are poised to correct the erroneous impression in some quarters that our chapel is a platform for artisans, I have heard people calling us
bricklayers, carpenters and motor mechanics. Our administration will not only look into the circumstances that gave rise to such attributions but will also make deliberate efforts to flush out those who are not qualified to be in our midst, these we shall do without losing sight of those who had been performing in the industry for decades, the ones that the NUJ constitution describes as Associate Members who can neither vote nor be voted for.
It is our resolve to build a virile union that will stand without the blemish of harbouring criminally minded individuals or charlatans that regards the union as mere meal tickets or the proverbial "pot of soup".
In view of the above, we shall work towards making sure members of our chapel are professional to the core and encourage those who are not certificated to obtain one by taking relevant courses in Journalism or Mass Communication from approved institutions.
The decision is to ensure that all of us are able to perform our critical roles: to protect, preserve and make accessible the records of humanity. We will retain our commitment to solidarity, ensuring that our members that with less resources can have more opportunities and assistance to develop their skills, methods and operating frameworks required of a modern Publisher and Editor.
Against this backdrop, our administration shall constantly organise seminars and workshops to update ourselves in the course of practising the trade of journalism with a view to strengthening our professionalism – through education, training and resources.
We also have a strategic priority to position our chapel as a veritable source of news gathering, essential for good governance, administrative transparency and democratic accountability. This we shall pursue vigorously to achieve.
I want to state here that we cannot accomplish the above by only convincing each other; rather, we have to reach out and enter into other reasonable communities and networks. We need to influence contemporary thinking about governance and administration through contents of our publications to ensure the reading publics are well informed and educated about the happenings within and outside their communities.
For the records, it's very important to note that as Journalists, majority of us who are veterans in the industry, have a deep understanding of information. We understand its vulnerabilities, its sensitivities and of course its long term value in our society.
We need to influence contemporary thinking about governance and administration through our various medium to ensure that government
laws, policies, structures and financial decisions take proper account of the value and benefits to the citizenry.
Without being immodest, members of our Federated Chapel have a lot to offer to governments, business/corporate bodies and the broader community as they wrestle with the issues of the modern world and, if we do it right, I know our contributions will be accepted and appreciated.
As a collective responsibility, and we as grassroot/community journalists are ready to join hands with other constituted authorities to make our state and Nigeria and the journalism profession more better than it is now.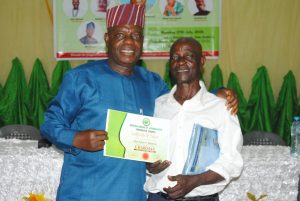 Of course there are many challenges ahead. Almost all of us face difficult financial constraints and some of us are currently facing very tough issues that affect our ability to achieve our potential in the industry. But let's not forget we are not alone in the economic crisis, especially the ones caused by the novel Covid-19 pandemic.
I want to commend the large heart being demonstrated by the elders and youths of our dear Chapel for their wisdom and commitment towards electing a new executive to restore the dignity of Federated Chapel.
We, the new executives also appreciate the magnanimous decision taken by our respected members from Ijebu axis of our Chapel.
As a democratic and peaceful person that always have the milk of human feelings running in his veins, I want to assure you all that, Insha Allah, we shall run an open door and all inclusive administration that will take care of every member of our chapel.
In conclusion, let's be united by our values and rich with talent. If each of us puts in what we can, we will find that we can get back what we need, but also so much more on top of that.
May I use this opportunity to appreciate the concerted efforts of all members of Ogun State Council of NUJ towards making sure this election holds against the unprofessional conduct of some members of our chapel.
To our colleagues of like minds (names numerous to mention) kindly accept our profound gratitude for the sacrifice and contributions towards the reality of this epoch event.
God will thank you immensely on our behalf and He shall manifest His mercies on each and every member of our great – NUJ/Federated Chapel, including our families.
Thanks a lot for giving me the audience.
God bless you real good
Long live Federal Republic of Nigeria
Long live Ogun State
Long live Nigeria Union of Journalists (NUJ)
Long live Federated Chapel of Ogun NUJ
Long live Members of our Chapel
Signed
AbuSatar Idowu Hamed (Elhadj)
Chairman, Federated Chapel, Ogun NUJ