Speaker, State of Osun House of Assembly, Dr. Najeem Salaam has debunked the rumour milling the round that he has ditched his governorship ambition.
The Speaker said at no time was he asked to step down for any aspirant at the Lagos meeting he had with the national leader of All Progressives Congress (APC), Asiwaju Bola Tinubu in company of Governor Rauf Aregbesola and the state chairman of the party, Prince Gboyega Famodun.
Dr. Salaam in a statement issued by his Chief Press Secretary, Mr. Goke Butika, said while conferring with local party chairmen across the state in Osogbo, that he was engaged on how political atmosphere would be managed in the state without hitch; affirming that he told the party leaders that free and fair shadow election would be the antidote to looming tension and crisis in the party.
He said Asiwaju Tinubu did not ask him to jettison his ambition or step down, but rather sought his view on how unity of purpose and victory could be achieved in the forthcoming governorship election in Osun and he offered his own opinion and also promised to inform his political structure when he returned home from Lesser Hajj.
Dr. Salaam revealed that he was compelled by the twisted narrative sold to the public by social media handle of supporters of an aspirant who stand to benefit from his recues from the governorship race, to abort his trip to Saudi Arabia and returned home to put the record straight.
"Why will Asiwaju Bola Tinubu ask me to step down? For who and for what? He is our national leader and symbol of our collective confidence. Yes, I met with him in company of Gov. Aregbesola and our party chairman, Prince Famodun and we talked about political development in Osun and we are all concerned about unity of purpose.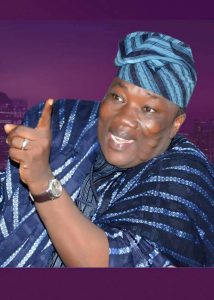 "That's where it ends. To the glory of God, I am an aspirant, I am eminently qualified as a Nigerian and a Ph. D holder in Political Science; leadership position is not strange to me, having presided over the house of 26 equals in the last seven years. So, why would I step down for anyone? Who can be more qualified in terms of management of material and human resources?" Salaam questioned.
Speaker Salaam then asked his political structure and delegates who have sympathy for him to soldier on with their mobilization drive and ensure victory for his candidature at the primary election, insisting that his zone, Osun West has been rudely deprived of its right to equal political opportunity since 1999 when democracy returned to the country.