Nigerian movie pundits have described the disqualification of Genevieve Nnaji's Film, Lionheart as a self-inflicted injury.
Observers of the scene were of the opinion that since there's a laid down rules guiding the competition, participants must obey it to the latter.
According to a private vox pox conducted by StarTrend Int'l magazine & www.startrend international.com, many people interviewed blamed Genevieve Nnaji for going against the rules of the competition by given English language preference over the local language which organisers of the competition stipulated.
They were of the view that, notwithstanding, Nigeria's official language is English, but Nigeria still has its local languages, saying Chinese and Indians still belief in their own local dialect as means of communications, the reason why their movies excelled.
Recalled, Nigeria's first-ever Oscar submission for best international feature film was disqualified by award organisers, sparking criticism from its director.
Films in this category, formerly best foreign language film, must have "a predominantly non-English dialogue track".
However, the 95-minute film Lionheart is largely in English, with an 11-minute section in the Igbo language.
Director Genevieve Nnaji said the film represented how Nigerians communicate.
But some in Nigeria questioned why it had been submitted in the first place, given the clear rules around what films are eligible for the category.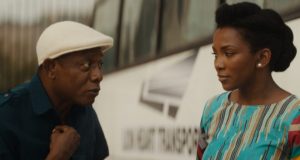 The disqualification of the film by The Academy of Motion Picture Arts and Sciences was announced to voters in an email on Monday, November 4, 2019, according to The Wrap.
Ava DuVernay, Director of Selma and A Wrinkle in Time, questioned the decision on Twitter, pointing out that English is Nigeria's official language.