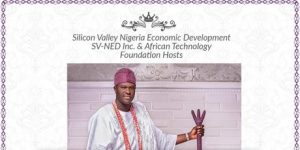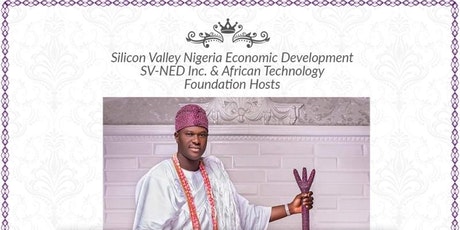 BY ABUSATAR HAMED
Silicon Valley-Nigerian Economic Development (SV-NED Inc.) & African Technology Foundation will play host to His Imperial Majesty, ObaAdeyeye Enitan Babatunde Ogunwusi, Ojaja II, the Ooni of Ife in Silicon Valley on Monday, November 13, 2017.
According to Chief Temitope Ajayi who is the Chairman/CEO Silicon Valley Nigeria Economic Development SV-NED Inc in a telephone interview with AbuSatar Hamed, Publisher/Editor-in-Chief, StarTrend Int'l magazine and www.startrendinternational.com, Ooni of Ife will also use his visit to promote the bridge between Nigeria and the Technology Capital of the World, Silicon Valley, saying, "Kabiyesi will also visit Cisco (CSCO), IBM (IBM), Intel (INTC) and Tesla Motors (TSLA)".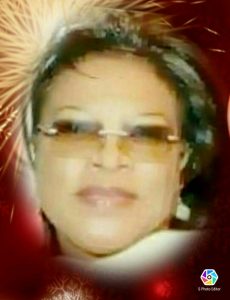 Oba Ogunwusi will also be meeting with the key representatives of Stanford University to discuss opportunities for exchange international programmes based on, education and youth empowerment.
Chief Ajayi fondly called Mama Diaspora stated further that the goal of these meetings and discussions will spearhead economic agendas that will lead the promotion of change and hope for the 15% unemployed youths in Nigeria, which has a trajectory to grow to 400 Million by 2040.
"The monarch's visit is also gear towards reaching out across borders apparently to start the conversations and secure relationships that will spur economic growth and employment opportunities in Nigeria," Chief Ajayi noted
She said that the ongoing vision of the hosting party, SV-NED is to bulid a bridge between the Silicon Valley's rich technological landscape to the investors, software engineers, and information technology firms in Nigeria.
"There has never been an attempt on this level to bring Nigeria from a developing country to an African powerhouse in technology. There are literally millions of young, educated, and eager engineers in Nigeria unemployed in the many fields that are fostered in Silicon Valley.

"SV-NED will be the hub for international intellectual properties exchange, investment opportunities, and international business development. Working hand in hand with major Silicon Valley companies and the Nigerian Economic Business group,
"Oni of Ife is promoting the positive movement of credible Nigerian firms who are eager to extend their trading relationships with Silicon Valley partners," she said.
Chief Ajayi further stated StarTrend Int'l magazine and www.startrendinternational.com that His Imperial Majesty is ready at hand to encourage and promote all opportunities for investment between these two great countries and rebuild Nigeria's credibility with his royal visit to top-tier Technology firms and SV-NED team by his side.