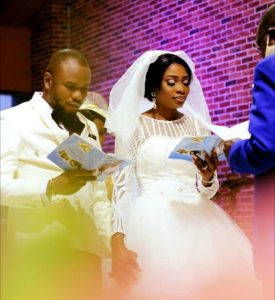 ILARO-YEWA: Sunday, June 21, 2020 would remain a memorable day in the lives of the families of Deacon & Mrs. Thomas Gbadebo Fadipe and Mr. & Mrs. Michael Bowale Akinyemi as their children – former Miss Oluwadamilola Elizabeth Fadipe and Mr. Oluwatayo Ebenezer Akinyemi became husband and wife.
The colourful wedding which took place at the First Baptist Church, Ita-Ajifon, Ilaro, headquarters of Ogun West was graced by sizeable number
of guests as ordered by NCDC.
In his sermon at the brief ceremony, the pastor in charge, Reverend S.J.
Olagunade (JP) enjoined the couple to at all times love each other and give no room for an intruder to come in between them.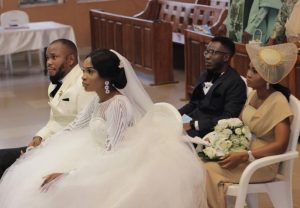 Rev. Olagunade who advised the groom to always take good care of his wife, also urged him to see his wife as his mother, sister, daughter and a life partner whom God has given to him to nurture and build a happy home together.
The cleric also advised the bride to always see her husband as her father and submit to him at all times as this was the injunction of Jesus Christ, adding that she should take adequate care of their home and never deny her husband of his marital rights.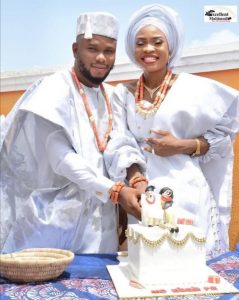 Engagement and reception took place immediately after the church service at an attractive and beautiful event centre along Ilaro-OjaOdan Road, Ilaro.
Advising the couple to be Godly in their marriage, a Student-Pastor from the First Baptist Church, Ilaro-Yewa, Pastor Adebayo Adeolu Ezekiel, at the engagement ceremony urged them not to get tired of loving and caring for each other, adding that doing so would always make their home a happy one and a shinning example to others.
The wedding ceremony was witnessed by notable personalities, families, friends and well-wishers of the couple.