By Seyifunmi Odunuga
IBADAN – Mauve 21 Hall, Ring Road, Ibadan was recently filled to the brim on the occasion of the 70th birthday of Lady Evangelist Iyabo Ogunsola, popularly known as Efunsetan Aniwura.
It was gathered that the birthday celebration should have been held in March this year, but it was postponed due to the government's directives on social gathering to curtail further spread of COVID-19 pandemic which affected the whole world.
The prominent theatre practitioners, socialites, cream of the society were in attendance such as the former President of TEMPAN, Mr Dele Odule, Chief Lere Paimo and some other theatre practitioners attended the birthday celebration .
Mrs Felicia Iyabode Ogunsola was born on March 15, 1950, and she is the last born of Mr. Fajembola of Yemetu in Ibadan. She attended St. Paul's at Yemetu for her primary education, after which she attended Anglican Grammar School, Orita Mefa, all could n Ibadan.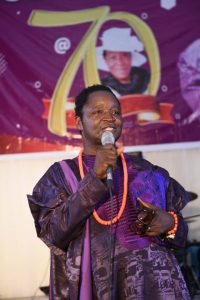 She started acting on the stage from her primary school days and she did not stop during her secondary school days.
In 1966, somebody introduced her to a man, Mr Boladale, popularly known as "Eda Kekere or Baba Kelere" in the Duro Ladipo's Theatre Group. Boladale was the Manager of the theatre group of Ishola Ogunsola, popularly known as I-Sho Pepper. Ishola Ogunsola group needed an actress.
Because of her love for stage drama, Iyabo accepted to follow Ogunsola's theatre group for performances in the Northern parts of Nigeria. I-Sho could see that she is so good in the art of drama and he could not afford to lose her. This made him proposed a nuptial relationship to her. That was how she became the wife of Ogunsola as soon as he could fulfil all the marriage rites. Since 1966, she became a professional actress.
In 1976, she came to the limelight when she acted in Iyalode Efunsetan, a story in the book written by Dr Akinwumi Ishola. During this time, the book was in the curriculum of secondary school students. The book was acted to enable the students to have better insight into the story.
Meanwhile, Ishola Ogunsola's theatre group came first among the theatre groups that attempted to act the story.
That was how Iyabo Ogunsola came to the limelight through a stage drama that narrated the history of a former Iyalode of Ibadanland. She became famous within and outside Nigeria.
The drama was well appreciated and patronised wherever it was acted throughout the country. Apart from the fact that the history of Efunsetan was acted on the stage, a periodical newspaper, Atoka, also published it for people to read.
Iya Efun, as she is popularly called, has participated in mamy stage drama and home movies. And she has produced her own movies that are evangelical, such as Omo Oloja Irole and Adehun Agan.
In 1992, she decided to work for God because she has been receiving messages of God's calling since 1970, but she did not yield to it. Based on an agreement with her husband, she registered at Christian Light Bible College, Ogbere, Ibadan where she learnt about Christian Ministry. She was about to finish from the theological college when her husband, Ishola Ogunsola died on December 28, 1992.
Immediately she finished the theological training, she started a full-time ministry. In a bid to explore her profession to the glory of God, she attended Mount Zion in Ile-Ife in 1995. Afterwards, she enrolled and bagged a doctorate at The Lord Bible School, Lagos in 1999.
Mama Efun is not only an actress, she is also a singer and ewi exponent. She has produced many prayer-songs records, such as Adura Mi Gba 1 2 3, By Fire By Mercy, Next Level, Akiikitan, Adura Ibewo, My Testimony (which narrated her life history and how she became a minister of God), In Jesus Name, Redeemer And Winner, Sword of Fire and Aanu Leekan Si i among others.