By Abiola Rufai
ILARO-YEWA: The Olu of Ilaro & Paramount Ruler of Yewaland, Oba Kehinde Gbadewole Olugbenle (MFR), the Asade Agunloye IV has frown on the nonchalant attitude of Yewa political office holders towards the progress and development of the region.
Oba Olugbenle who gave the knock during his opening remarks at the 25th Anniversary Celebration of Yewa Think Tank (YTT) which took place at Yewa Unity House, Ona-Nla, Ilaro, headquarters of Ogun West, pointed out that the political office holders representing the area at various political office levels were the major problems of the senatorial district.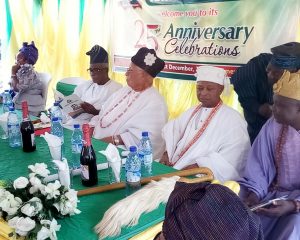 He described Yewa politicians as, "group of irresponsible people who have no time to attend to their people."
According to him, "some of our politicians are our problems. Where are they today? They are supposed to be at this event, but where are they? So, you can see where the problems are.
"If you are an honourable, senator, you are member, house of representative, and you are too busy to attend to your people, that is an irresponsible. They are not responsible and that is the truth,
and nothing but the truth. That doesn't happen in Egba or Ijebu".
On discrimination against Ogun West, the Paramount Ruler said,
"information is vital. I want the YYT President and members to always keep me informed of happenings. I am someone who doesn't just talk. Infact, recently I was with Alake and during our discussion, I told him that I hate being cheated and I hate my people being cheated. What apply to A must apply to B. We are all Paramount Rulers, and we are all rotational chairmen and there is no law in Ogun State that make one Paramount Ruler A, head to Paramount Ruler B.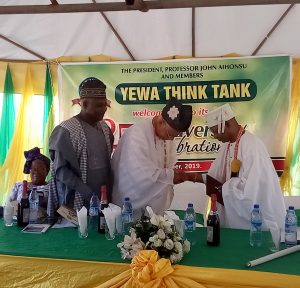 "Even, when there was discrimination in our salary, I said no, that I will not collect it. I am not rich, but not poor, and the issue was corrected. So, many things are wrong in our system.
"We are all first class citizens and Ogun state belongs to all of us. Whatever is due for A must also be given to B. God bless Awujale, and others who always say it the way it is".
The first class monarch implored citizens of Yewaland not to despair, and not allow anybody to divide them by calling them Yewa/Awori, stating that the region is one and is Yewa and not
Yewa/Awori.
"I am a Paramount Ruler of Yewaland and not Yewa/Aworiland. They are using it to divide us. There is no law that says it is Yewa/Awori. It is either Ogun west or not.
"Even if they are calling us Yewa/Awori, then Ogun Central should be called Egba/Awori because Egba people are in Ota up to Ilogbo, etc. Are Awori not in Egba Traditional Council?" Oba Olugbenle posited.
Appreciating the efforts of members of YTT, the Paramount Ruler pointed out that the association shares with him, some of the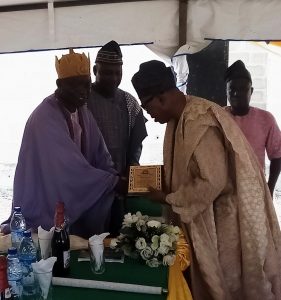 visions that he has towards the development of Yewaland while stating that with YTT, Yewa project has just started.
He advised members of the association not to bring politics into their activities, adding that all he was after is the progress and development of Yewaland.
Oba Olugbenle enjoined indigenes of the region to give adequate support to the Prince Dapo Abiodun led government in the state. He prayed that the administration would be successful.
Earlier in his welcome address, the President of the association, Prof. John Aihonsu said, " it has been twenty five years of uncommon courage from the small beginning of about eight people from length and breath of Yewaland to the present membership of over fifty eminent personalities still waxing stronger with laudable achievements.
"Certainly, silver jubilee in the life of an organisation is a milestone to celebrate. This is more so in the annals of association formation
in Yewaland and their capacity to survive, the Yewa Think Tank is the only pan-Yewa, nonpolitical group that has existed for twenty five years. Not only has YTT survived but it has also been waxing stronger and getting better, like an old wine".
The event also featured recognition and presentation of Merit Awards to founding fathers of YTT and its members who have contributed immensely to the progress of YTT in particular and Yewaland in general.
They include Oba Kehinde Olugbenle (MFR), Oba Jacob Olufemi Omolade (the Olubara of Ibara), Oba Gbadebo Adesola Oni (the Onimasayi of Imasayi), Prof. Biyi Afonja, Otunba (Dr.) S.A.J. Ibikunle, Prof.Ago Alabi, Prince A.O. Oyekanmi, Chief Emmanuel Edun, Late Senator Jonathan Odebiyi, Late Dr. Tunji Otegbeye, Late Alhaji Bolarinwa Abioro and Late Hon. S.S. Kikisuhu,
Others are Prof. A.I. Asiwaju (MFR), Chief (Mrs.) Yemisi Oloyo, Chief Adewale Adesina (Mr. Wale Saranda), Mr. Kunle Adebiyi, Prof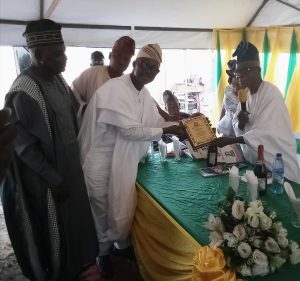 (Mrs.) C.A. Afolami, Princess Adeyinka Adedokun (3Ace), Otunba Hakeem Adigun (Socopao) and Hon. Kayode Oladele and Hon. Abiodun Akinlade.
The event was graced by creme of the society who came from far and wide to serenade the socio-cultural organization. They include members of Yewa Metro Club, Ilaro, Recreation Club Ilaro, Ogun West Public Servants Forum, Ogun West Stakeholders Forum (OWESF) and Yewa Descendants Union UK & Ireland, among a host of others.