…Publisher Sends SOS To FG Over Crazy High Cost Of Printing Materials
By Raymond Osho & Gaffar Babalola
LAGOS – It was gathering of veterans from various endeavours as StarTrend Int'l magazine held its Lecture & Awards on the occasion of the paper's 10th anniversary celebrations.
AbuSatar Idowu Hamed, Publisher/Editor-in-Chief, StarTrend Int'l magazine, who is also the chief host of the event used his over 40 years in the media to bring together veterans and greyhounds from various disciplines together with a view to celebrate with him on the milestone in the industry.
The much-publicized 10th Anniversary ceremony which took place with pomp and pageantry on Sunday, November 28, 2021 at the Excellence Hotel, Ogba, Lagos kicked off with opening prayers from Alhaji Gaffar Idowu, the Otun Musulumi of Ilaro Central Mosque, Ilaro and Amb. Cornell Udofia, founder and convener, CMC Gladiators of Repute in both Muslim and Christian faith was graced by crème of the society from all walks of life.
In his welcome address, AbuSatar Hamed called on the Federal Government to quickly see to the present crazy high rise in the prices of printing materials by removing whatever tariff that militate against its importation.
He pleaded to the country's administration at the Lecture & Awards presentation on occasion of the 10th Anniversary of StarTrend Int'l magazine.
AbuSatar noted that the crazy high cost of printing materials has seen to the death of many newspapers and magazines, even educational textbooks and others are no longer available.
His words, "This bad situation has put pressure on the social media, which aside from its immediacy in news transmission the New Media encourages fake news in our society; Reason being that the medium affords every Dick, Tom and Harry to become "journalists", it has made journalism, a prestigious and the only profession enshrined in the Nigerian Constitution, an all comers affairs. This is sad."
The StarTrend boss also noted that "another impediment of the media is lack of patronage from the 3 tier of government, as legislated that government establishment should patronise community newspapers, magazines and journals, especially the community publishers so that as a bridge between the government and the govern, can continue to inform, educate and entertain the community as enshrined in the Nigerian constitution."
He was of the opinion that as the Fourth Estate of the Realm, the Federal Government should start to provide for the practitioners in the journalism industry as it did for the Executive, Legislature and Judiciary (first, second and third estates of the realm).
The veteran journalist also called out to his colleagues in the pen profession to start celebrating themselves through their medium.
"Without being immodest, I've promoted a lot of people when I called the shots as Entertainment/Society columnist who handled seven pages every week back then.
"These people, majority of them are now stars, but they don't know AbuSatar Hamed again. Some don't even pick my calls or reply my messages, but to God be the glory people like you that honour my invitation are the motivating spirit that keeps me and my baby – StarTrend Int'l going, and God will never forsake you all."
AbuSatar Idowu Hamed thanked the Almighty God who made the occasion possible.
He prayed that "the Omniscient God that brought all of you – my esteemed and august guests here; I pray that He should watch over all of us and our households."
His words, "Today marks another happiest day in my life for the opportunity given to me by the Almighty God to celebrate a milestone in my life – 10th Anniversary of the establishment of my baby – StarTrend Int'l magazine.
"As we all aware that to establish any business in this country is a harculean task; hence the journey of StarTrend Int'l magazine is no doubt full of ups and downs."
AbuSatar revealed that his initial idea of the establishment of the paper was to promote his root (Ilaro-Yewa, headquarters of Ogun West), but after some editions, reactions from his esteemed readers across the country and abroad was that he should let the contents of the magazine spread across the country, even overseas.
In consideration of this valuable piece of advice, he said, began to include news from all over the country and overseas in our subsequent editions till date.
"We also created an online publication – www.startrendinternational.com with a view to following the trend in the media and also to keep our readers abreast of news as it breaks through their mobile phones", he stated.
To have survived till date as a publisher of a magazine, he noted that it is by the special grace of God and the unflinching support he's getting from his partners and lovers, which include the financial institutions, captains of corporate companies and institutions, individuals, and of course, his wife and children.
He stated that he's highly indebted to you all for the moral and financial supports you have accorded StarTrend Int'l magazine over the years.
"I would not forget those who made this event possible by their moral and financial supports, and those who are yet to offer theirs. I appreciate you all", he enthused.
AbuSatar also congratulated the awardees for the honour bestowed on them, while he promised to continue to recognise and appreciate good deeds in the society as a way of encouraging others to follow the path of hardwork, honesty, service and patriotism.
The Otun Baaroyin of Ilaro-Yewaland (designate) thanked his guests for sparing time to celebrate with him, and prayed that God in His infinite mercies shall celebrate them all till eternity.
In his lecture at the event, the Ekefa Olubadan of Ibadanland, Oloye Lekan Alabi, who is a veteran journalist and a seasoned public relation strategist, went into the memory lane of the pen profession in Nigeria and the players in the industry.
He gave a critical analysis of how the profession was practiced in the past compared to today.
Oloye Alabi however called on the men of the pen profession to be fair and sincere in their reportage of news as it breaks.
"Three years ago, I was chairman of a symposium of this particular topic. I said, when a good journalist gets any news, he should verify first, and even ask himself could this be true?
"Nigeria journalists must stop spreading fake news. It's high time the professional training institutions start to censor those journalists that involved in the habit of churning out fake news.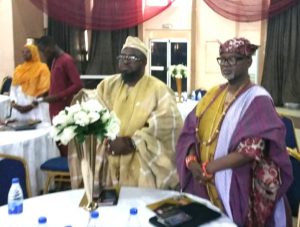 "Because you can't give what you don't have, the teachers, lecturers those who have been brought up through the stages of formal training in the profession with integrity, should stand up to protect the integrity of the profession."
Oloye Alabi stated further that the reason why people say buy one Nigerian newspapers and you buy all the newspaper as they feature same stories everyday.
"Some reporters are so lazy, they won't even change the headline from the one syndicated to them by their colleagues.
"In the days of Satar at the rested Sketch Press Ltd, it was sweat, blood and tears. Everybody knows Satar is a specialist in entertainment news, and it's a reflection of what you see in the Media outlet."
The Ekefa Olubadan noted that the fancy stories Nigerian reporters like writing is about the event which he or she did not attend, saying, "For the journalists of today to perform the expected role, they must be professional in their reportage."
He disclosed that the late Chief Obafemi Awolowo was inspired to become a reporter for Daily Times, Chief Olagoke Akintola was a journalist, and fantastic writer and Anthony Enahoro who moved motion for independence when he was less than 30 was also a journalist.
"Enahoro sent away the colonialists through intellectualism; these juggernauts, no doubt shook the British with their brains."
Oloye Alabi also dwelt on how Nigeria came into being and the problem that was created by the British in the creation of a country called Nigeria.
His words, "God did not create Nigeria, January 1, 1914, Lord Lugaard did not consult widely with all the tribes in Nigeria, on what they termed as amalgamation.
"All nations of the world are created by God.j A nation is where you have a single lingua franca, traditional culture, philosophy and outlook. But the case is different in Nigeria with over 200 tribes in the country."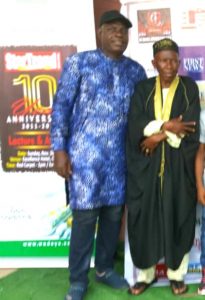 The veteran journalist and Ambassador of Culture and tradition said "Nigeria is the most blessed country in the world and endowed with intellectualism and very conservative, hard work, vision, creativity.
"Recently as I was reading a newspaper, it was reported that Nigerian Medical Doctors in Britain are about 7,000, and the British government has now opened the gate for the qualified, to write their test, take their family and come to UK.
"So who wants to stay here with the ASSU, NASU, problem of petrol, gas, and they always tell us it will soon be good."
Oloye Alabi stated further in "Ebenezer Obey Fabiyi will be 80 by the grace of God, next year April. When he was 70, I was the Chairman Planning Committee of the event, then he sang a song, "Nigeria yi si ma dun o da mi loju" , that was in 1983 which is about 38 years ago, but we're still looking up to the good days to come."
He commended Publisher and the crew of StarTrend Int'l magazine for the good work they are doing to inform, educate and entertain Nigerians, saying they shouldn't despair as better days are coming when they would reap the fruits of their service to humanity.
Among the dignitaries that enlivened the event include Oloye Lekan Alabui, the Ekefa Olubadan; Alhaji Gaffar Idowu, the Otun Musulumi of
Ilaro Central Mosque, Ilaro who represenred Alhaji Tajudeen Mustapha-Adewunmi on the occasion; Mrs. Ibironke Sokenu, Chairman, Nigeria Deposit Insurance Corporation (NDIC) who was represented by her PA; Chief Elegbede (Jossy Friiday), the Bolojo musiic legend; Chief Mustapha Adetayo, the Baba Adini of Ilaro Central Mosque; Chief Toye Ajagun, the Juju music icon; Alhaji (Chief) Waidi Haruna, Chairman/Chief Executive, Wadoye Express Ltd and Mr. Babajide Kolade-Otitoju, Controller, TVC.
Others are Alhaji Lawal Tukur who led a powerful deligation of Dangote Cement team that consisted Mr. Francis Awowole-Browne and others; Mogaji Moshood Gbolagade Akere; Messrs Dayo Asaju and Otunba Segun Ogunbunmi of FirstWeekly and Global News, respectively and Kirk Brown Global Investment Limited among a host of others.
Recipients of the StarTrend Gold Award of Excelence include Prince Dapo Abiodun, MFR, Dangote Cement Plc, Oloye 'Lekan Alabi, Alhaji Waidi Haruna, Dr. Abib Olamitoye, Primate Ayodele Elijah Babatunde, Laralek Ultimate Limited, Otunba Wasiu Taiwo, Senator Tolu Odebiyi, Senator Solomon Olamilekan Adeola (Yayi), Hon. Lateefat Bolanle Ajayi, Prince Gboyega Nasir Isiaka (GNI), Alhaji Abdul-Gaffar Wale Matanmi, Mr. Dayo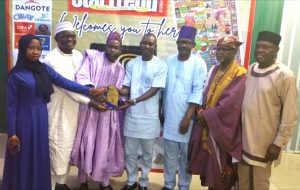 Asaju, Kirk Brown Global Investment Limited (KBGI), Ogun State Television (OGTV), Mr. Jim Iyke, Mr. Niyi Orelusi, Mr. Godwin Okoro, Mr. Felix Mordi, Hon. Olusegun Gbeleyi, Mr. Bode Benson, Mr. Muyiwa Apara, Mr. Patrick Onyekaba (Pato), King Wadada, Prince Bisi Olatilo, Mr. Funsho Arogundade, Karl Olutokun Toriola, Hadjia Zainab Bola Otaru and Seyi Hunter.
Others are Hon. (Chief) Jide Ojuko, Hon. Isiaq Abiodun Akinlade, Barr. Olubiyi Otegbeye (BOT), Alhaji Akeem Adiguin (Sokopao), Engr. (Pa) Olayinka Akintomide, Alhaji Ibrahim Dende Egungbohun, HRH Queen Mother AminaTemitope Ajayi (Mama Diaspora), Mogaji Moshood Gbolagade Akere, Mrs. Blossom Chioma Gabriel, Hon. (Prince) Ned Munir Nwoko, Mrs. Olubumi Ojo Afolabi, Prince Aderibigbe Adewale-Tella, Chief (Mrs.) Iyabode Apampa, Otunba Segun Ogunbunmi, Mr. Yomi Fash-Lanso, Madam Bolatito (Miss Pepeye), Mr. Antar Lniyan, Ms Ayo Mogaji, Mrs. Grace Owoola Oyin-Adejobi (Iya Osogbo), Chief Lere Paimo (Eda Onile-Ola), Mr. Sunday Omobolanle (Aluwe), Late Alhaji Sikiru Ayinde Barrister, Chief Joseph Elegbede, Chief David Anwo Agbolade (Popular Jingo), Mr. Oladotun Agboola (Cymbals Dance Group), Messrs James & John (JTwins
ObamejiNr1), Arc. Oladipupo Olatayo, Mama Woli Oluremi Yiolokun, Alhaji Mogaji Ibrahim Olaniyan, Uncle Toye Ajagun, Chidi Uzoma, Felix Mordi, Eno Udo, Babajide Kolade-Otitoju and Oluwatosin Ajayi (Mrs.).
The awardees also include Ach. Segun Aluko, Rector, Federal Polytechnic, Ilaro, Chief Adewale Adesina (Saranda), Late Deacon Adepoju Adeyemi, Wole Shokunbi, Kontakts Klub of Nigeria, Abdul-Jabar Ayelaagbe, Amb. Cornell Udofia, Mr. Dele Adeyanju, Mr. Oluwaseun Fabiyi, Dr. Sowemimo Abiodun, Mrs. Ibironke Sokefun, Blossom Chioma Gabriel, Late High Chief (Dr,) JAS Kolawole Abiodun Oyekan, Hon. Kolawole Lawal and Commandant (Dr.) Hammed Abodunrin.
Others are First Bank of Nigeria Limited, United Bank for Africa (UBA), Ecobank Plc, Access Bank Plc, Guarranty Trust Holding Company Plc, Fidelity Bank Plc, Zenith Bank Plc, MTN Group Ltd, Mrs. Jaye Kuti, Alhaji Taiwo Hassan (Ogogo), Regency Alliance Insurance Plc, Soulcomms, Elder Adetokunbo Fakeye, Dr. Reuben Abati, Mr. Seyi Odunuga (SeyiChicago), Mr. Dare, Mr. Femi Farotimi (Femlight), Mrs. Remi Adebiyi, AIG Iliyasu Ahmed (rtd), Imam (Sheik) Tajudeen Mustapha-Adewunmi, Mrs. Kafilat Abisoye, Yemi Sonde (Jigan Akala) and Baba D Baba among others.