BY ABUSATAR HAMED
Hon. Olaifa Jimoh Aremu (OJA) MHR, representing Egbado North/Imeko Afon Federal Constituency, on Tuesday August 13, 2019 had an on-the-spot assessment tour to Ologiri Village of Ketu axis of Egbado North.
Ologiri Village residents only drink from an unhygienic pond where they sometimes share same with cows from Fulani Herdsmen as there is no alternative source of drinking water available for them.
Hon. Haruna Eegungboun representing Ketu State Constituency was part of the entourage of Hon. Olaifa to the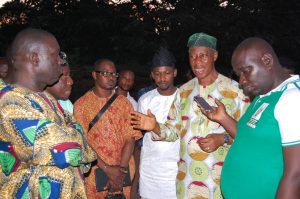 Village.