AIYETORO-YEWA – A member of the House of Representatives, representing Egbado North/Imeko Afon Federal Constituency at the National Assembly, Abuja, Hon. Olaifa Jimoh Aremu has felicitated with Muslims, especially from his constituency as they mark this year's Eid-el-Kabir, urging them to imbibe the lessons of sacrifice and love which the festival signifies.
Hon. Olaifa, who is also the Deputy Chairman of House Committee on Lake Chad Basin Commission in a message he personally signed, enjoined Nigerians to use the unique period of Eid-el-Kabir festival to pray for our dear country and the entire world under the yoke of Covid-19 pandemic and other challenges that are threatening security of lives and property as well as economic well-being of average Nigerians.
While urging everyone to be conscious of Covid-19 protocols and show love for one another, Olaifa noted that the festival provides a new opportunity to show compassion, especially for the less privileged, stressing that, "only peaceful co-existence, selflessness service to the nation and total obedience to God, as was demonstrated by Prophet Ibrahim (ASW) could take the country to the desired level".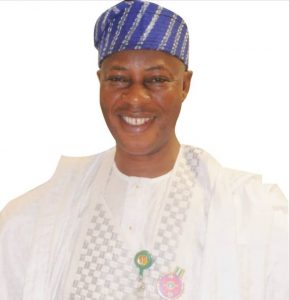 OJA as the Aiyetoro-born lawmaker is fondly called by his admirers further noted that Eid-el-Kabir is a celebration of trust between man and God, rooted in the fulfilment of promises; he therefore urges the people to always hold their leaders and custodians of public responsibilities accountable and ensure they deliver on their promises.
Hon. Olaifa concluded that, "The significance of Eid-el-Kabir celebration is not in the blood or the flesh of the rams that are being slaughtered, but the message is for people to respect terms of promises made to other individuals, and it is on this note that I urged the Muslim faithful to remember that obedience to Allah and uprightness are some of the virtues of a true worshiper".