The Ogun State Deputy Governor, Engr. Noimot Salako-Oyedele has been decorated as an Ambassador of the Ogun-West Public Servants Forum (OWPSF), as the body pledged their support for the State Government towards achieving its vision for the people.
According to a release signed and made available to StarTrend Int'l by Oluwaseun Boye, Press Officer, Office of the Deputy Governor, receiving the delegation led by its Chairman, Barrister Olusegun Olaotan, in her office, Engr. Noimot Salako-Oyedele, commended the Forum for the honour bestowed on her and for representing their constituency well, assuring them that all issues raised would be looked into by the state government.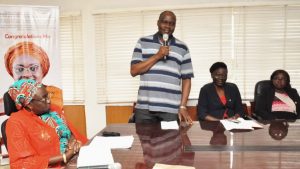 According to the Deputy Governor "Prince Dapo Abiodun is a man of his word, Ogun-West will be better for the administration of Dr. Dapo Abiodun. While I wish you the very best, please feel free anytime you need us, the administration will support you, as we go together in building Ogun State".
Briefing the Deputy Governor, Barrister Olusegun Olaotan, said the visit was to felicitate with the present administration in the State on its successful inauguration, assuring that the forum would join hands with the government towards building a virile society.
According to him, the group ensured the protection of members' interest by creating a symbiotic relationship with other interest groups from other Senatorial Districts of the State, with a view to achieving speedy human socio-economic transformation and development of the people of Ogun West.
"Most importantly, we seek a fair and equitable allotments of available opportunities in public service of Ogun State and Nigeria in general for members of the forum as well as the people of Ogun West Senatorial District, wherever we find themselves in the competitive world of public service and political office appointment ", he said.
In his goodwill message, a former Head of Service and member of the forum, Elder Sola Adeyemi said, it is a thing of joy for the forum to have one of them as the Deputy Governor, adding that the battle for being more relevant in the scheme of things had been on for sometime, as evidence of marginalization is all over the State, but we thank God, you have been given the opportunity to be in position of authority at this point in time'', he submitted.
Also speaking, the immediate past Permanent Secretary, Local Government Service Commission, Mr. Lateef Owodeyi, stressed that the expectations of the people were very high, advising government to be weary of sycophants but recognise the inputs of individuals, groups and associations, aimed at taking government to a greater pedestal.