IJEBU-ODE: The Ogun State Government has commiserated with the family of the Late Sikiru Adebayo Osinowo.
According to a press release e-signedand made available to StarTrend Int'l magazine & www.startrendinternational.com by SF Ojo, SSA to the Ogun State Governor on New Media, Sen. Osinowo represented Lagos East on the National Assembly, but passed on in the early hours of Monday, June 15, 2020.
The late Senator who was and indigene of Ogun State and a former Lagos State House Assembly member, died of complications arising from ofcoronavirus.
The Deputy Governor, Engr Noimot Salako-Oyedele who on Wednesday, June 17, 2020 led the state delegation to the Ijebu-Ode residence of the late Federal lawmaker on behalf of Gov. Dapo Abiodun, noted that the late Senator was someone who was very dear to the hearts of everyone, particularly Ogun State where he hailed from.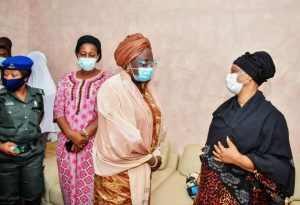 Engr. Salako-Oyedele described the late Senator as a person larger than life, who duly impacted in the lives of everyone he came across in no small measure to which countless testimonies abound.
After Engr Salako-Oyedele read a personal letter addressed to the family by Gov. Dapo Abiodun, she prayed that Almighty God grant the deceased Aljana fidaus and give the family fortitude to bear the loss.
In company of the Deputy Governor were the Chief of staff to the Governor, Alhaji Shuaib Afolabi Salisu, some State Commissioners and Special Advisers.
Read the full text of the letter signed by Gov. Abiodun below:
"I received the sad news of the passage of Senator Sikiru Adebayo Osinowo on Monday, 15th June, 2020, with a deep pain and grief that words are
insufficient to capture. On behalf of my family, the Government and good people of Ogun State, I convey our deepest condolences.
"His demise terminates not just the companionship of a loving husband, the affection of a caring father, a source of generous giving that underpins the lives and living of so many people, or even a beacon of hope of a better tomorrow for yet many others.
"This painful exit is much more than the end of an individual. Pepper, as he was fondly called, had become a phenomenon and a symbol of loyalty to his friends, fidelity to a cause and courage, even in tempestuous times. Senator Osinowo, a consummate politician and patriot will be sorely missed by all.
"Posterity will accord him his due recognition for his legacies of service and forthrightness. I recall with nostalgia his unwavering support in my bumpy journey to the office which continued till he breathed his last. Pepper never forgot his roots, even as he served the nation in different capacities and locations. He was a worthy Ambassador of Ogun State.
"I urge you all to find solace in this Prophetic counsel: "Amazing is the affair of the believer, verily all of his affair is good and this is not for anyone except the believer. If something of good happiness befalls him he is grateful and that is good for him. If something of harm befalls him, he is patient and that is good for him" (Saheeh Muslim #2999).
"May Allah forgive and admit him to Aljannah Firdaus and grant the family, friends and associates the patience to bear this painful loss.
"Once again, please accept our heartfelt condolences and the assurances of my warmest regards, as always".