ABEOKUTA: AS a response to the Covid-19 Pandemic and in line with the directives from the National leadership of the Organised Labour in the Country for the formation of Nigeria Labour-Civil Society Situation Room in all States.
According to a press release e-signed and made available to StarTrend Int'l magazine & www.startrendinternational.com by Olusola Ilori, SA Media to the Chairman, Nigeria Labour Congress, Ogun State Council, Comrade Emmanuel Abinbola Bankole on a low-Key ceremony inaugurated Labour-Civil Society Situations Room, at the Conference Hall of the Labour Secretariat, Leme, Abeokuta and he highlighted some of the objectives of the Situation Room while welcoming members of the Committee and what is expected from them.
Comrade Bankole charged members of the newly inaugurated committee to rise up to the clarion call and embrace the appointment as call to service, sensitise workers on the prevalence, prevention and containment measures against COVID-19 and maintain feedback mechanism, and that the Committee should also support workers who are in the frontline of COVID-19 pandemic with information and occupational skills.
He also emphasised that the committee are saddled with responsibility of engaging the Government on how best to gradually and systematically open up the economy for business and production bearing in mind the major means of livelihood of Nigerian workers should also be protected by the committee.
While appreciating the Chairman of the Congress on behalf of other committee members the Chairman Caretaker Committee, Nigeria Union of Journalists Ogun State Chapter, Comrade (Mrs.) Omolola Adeyinka expressed gratitude to the National body of the Nigeria Labour Congress and the State Council for the formation of the Labour-Civil Society Situation Room.
Comrade (Mrs.) Adeyinka promised to intensify efforts in sensitising the masses who still believe COVID-19 is not real by reaching out to them, especially at the grassroots, pledging their readiness to inform and educate the people on the dreaded disease, called Coronavirus.
She also called on religious leaders, market men/women, artisans among others to strictly adhere to all precautions as instructed by the government and medical personnel.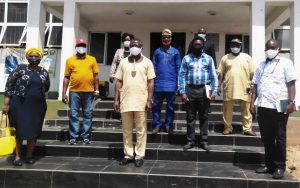 The Ogun NUJ boss later prayed for success of the programme and call on to God to heal our land.
Members of the committee are; the National Association of Nigeria Nurses and Midwives -Comrade Nurse Olufunmilayo Roseline Solarin, the Chairman Nigeria Medical Association – Dr. Lawal Ismail Akinlade, the Chairman, Medical and Health Workers Union – Comrade Akeem Balogun, the Secretary Medical and Health Workers Union – Comrade Steve Modupe, the Chief Administrator of Fight for Your Right Advocate – Dr. Ayedun Isaiah Segun, Comrade Yinka Folarin among others.