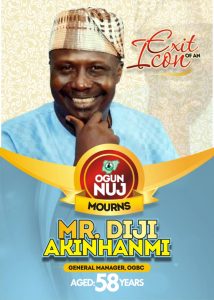 ABEOKUTA: The Nigeria Union of Journalists Ogun State Council has expressed its sadness over the news of the sudden transition of Mr. Diji Akinhanmi.
According to a press release e-signed and made availabile to StarTrend Int'l magazine & www.startrendinternational.com by Kayode Taiwo, Chairman, NUJ Ogun State Council Caretaker Committee, the release stated, "At a time like this when the State Council needs the experiences of it's Senior Practitioners in our Noble Profession, this particular sad news is one too many.
"Transition of Mr. Diji Akinhanmi came at the most unexpected time and yet to come to terms with the reality of this great loss."
Mr. Akinhanmi who until his sudden transition was the General Manager of OGBC, the organization where he started his Broadcasting career, was formerly the AGM News and Current Affairs of OGTV.
A down to heart, lively and hardworking professional was an asset to the Nigeria Union of Journalists, Ogun State Council and the entire NUJ family in the country.
Late Diji, a former Vice Chairman of our Council, played prominent roles in early years of the Council's formation.
Mr. Akinhanmi attended African Church Grammar School, Ibadan, Ogun State Polytechnic, Abeokuta and Ogun State University (OOU), Ago-Iwoye.
"May God Almighty be with his wife, Children and Siblings left behind.
Adieu. Man Digger, the Jagaban himself," the release concluded.
In another development, the final burial ceremony for the deceased starts by 5pm with Wake Keep on Wednesday, January 22, 2020 at African Church Cathedral, Ita-Iyalode, Opposite Gateway Secondary School, Abeokuta.
Burial Service holds on Thursday, January 23, 2020 from 11am. at African Church, Rock of Ages Parish, Oniyanrin. Just turn at the roundabout at Agbeloba, Quarry road, to Adigbe, but watch out for your first turning on the right immediately after turning to Adigbe and follow the untarred road with the sign post of the Church in blue colour along that path till you get to the Church Venue.