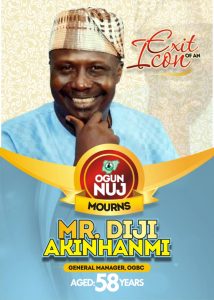 ABEOKUTA: The Ogun State Council of NUJ in collaboration with friends of Late Mr Diji Akinhanmi will on Tuesday hold an "Evening of Tributes" for the deceased on Tuesday, January 20, 2020 at the NUJ Secretariat, Iwe Iroyin, Abeokuta, taking place between 5.00 and 6.30pm.
According to a press release e-signed and made availabile to StarTrend Int'l magazine & www.startrendinternational.com by Rotn. Kayode Taiwo, Chairman, NUJ Ogun State Council Caretaker Committee, this will be followed by a "Lying in State" at the premises of OGBC,Abeokuta on Thursday, January 22, 2020 by 8.30am, saying, "This additional programmes are with the approval of the Akinhanmi Family."
His words, "Burial Service holds on Thursday, January 23, 2020 from 11am. at African Church, Rock of Ages Parish, Oniyanrin. Just turn at the roundabout at Agbeloba, Quarry road, to Adigbe, but watch out for your first turning on the right immediately after turning to Adigbe and follow the untarred road with the sign post of the Church in blue colour along that path till you get to the Church Venue.
"Through this information, we use this opportunity to invite the Heads of Media Organization in Ogun State, Media team of Ogun State Government, NUJ & RATTAWU Ogun State Council and friends to honour the departed and have the opportunity to make their tributes to An Icon at the "Evening of Tributes" on Tuesday, January 20, 2020.
"Also, staff and members of our union should pay their last respects at the lying in state taking place at OGBC, Abeokuta on Thursday, January 23, 2020."