By Abiola Rufai
ILARO-YEWA – The State Commandant of Nigeria Security and Civil Defence Corps (NSCSC), Ogun State Command, Alhaji Hammed Abodunrin has disclosed that the agency will soon start security education programme amongst the students in both primary and secondary schools across the State.
Alhaji Abodunrin stated this on Thursday, September 17, 2020 at Ilaro, during his familiarization tour of Yewa South Local Government area of Ogun State.
He pointed out that the programmes will be all encompassing as members of communities to make them more security conscious and be well informed about security operations.
Abodunrin said, "Actually, the NSCDC is bringing up a programme where we are going to start reaching out to communities and bring up their security consciousness. We are going to start with primary and secondary school children; train them on security consciousness. So also, we would be going to the community to do same.
"So, when the programme starts, they should cooperate with us. We are also going to involve the media because, media has to do with dissemination of information", Abodunrin posited."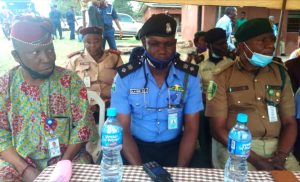 The NSCDC State Commandant expressed his happiness on the peaceful atmosphere that exist in Ilaro, headquarters of Ogun West.
Commandant Abodunrin who could not hide his joy on the existence of peaceful atmosphere in the town during his familiarization tour of Yewa South Local Government area of Ogun State, pointed out that effective cooperation and synergy amongst the security agencies and members of Community Development Association (CDA) in the area was behind the good and conducive atmospheric lifestyle in the ancient town and its environs.
According to him, "I am so happy for the peaceful atmosphere here in Ilaro. When you have peaceful atmosphere anywhere, it shows that the security operatives in the area are up to the task; secondly, it means that the people in that area have been cooperative. It is a kind of synergy. You cannot clap with one hand. So, it is when the people and the security operatives works together that we can achieve peace".
He advised citizens of the town to be more security conscious so that they could sustain the existing peace and also improve on it.
On his own, the Area Commander, Nigeria Police Force, Ilaro Division, Mr. Chris Adeyeri while welcoming the NSCDC Commandant to Ilaro said, " Education of our children would come in now, so that they would know the importance of security.
"I think it will go along way to assist us, because when they know much about the security, surely they will know when to response, when to give information and how to be conscious of security.
"We are all going to work together to ensure that this is done", Adeyeri said.
Corroborating the NSCDC Commandant, the Assistant Controller of Nigeria Correctional Service, Ilaro Division, Mr. Bamidele Osin pointed out that, " It is a known fact that the synergy between the security agencies has been so
tight in Ilaro and you can see for yourself, the security agencies as well as the civil society that we have in our mix.
"Ilaro has been extremely very peaceful. I can say that here in the Correctional Centre, we take statistics of people from Ilaro that are in custody, I am not sure that they are up to 5%."
Osin thanked the Officers of NSCDC for their support at ensuring that there was adequate security within and around the Correctional Centre, Ilaro, while praying that the tenure of the State NSCDC Commandant would be fruitful.
In his vote of thanks, the representative of Community Development Association in Yewa South Local Government, Chief Safarudeen Popoola appreciated Officers of the NSCDC and other security outfits, stating that they have always been attending their CDA meetings and in return, the CDA have also been assisting them especially in the area of community policing, adding that the CDA would continue to give them adequate supports.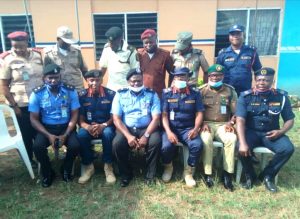 Present at the event were representatives of Christian Association of Nigeria (CAN) Yewa South chapter, representatives of League of Imams, Yewa South Local Government, members of the foremost Recreation Club, Ilaro, members of Federal Road Safety Corps (FRSC), members of Vigilante Group of Nigeria (VGN) and members of So-Safe Corps among a host of others stakeholders from within and outside Ilaro.