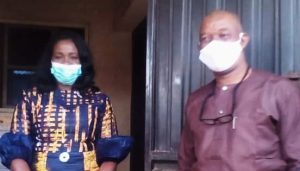 IJEBU IGBO: The Ogun state commissioner for Health, Doctor Tomi Coker, and The Chairman, Ijebu North LG Transition Committe, Hon. Jayeola Olusola Yekeen, have commended the Ogun State Chapter of Rotary International, led by Dr. Jide Akeredolu and his members, for being magnanimous to make Ogun State, in general, and Ijebu North LG, in particular, the beneficiaries of some of the Club humanitarian and health intervention programmes.
According to a press release e-signed and made available to StarTrend Int'l magazine & www.startrendinternational.com by Badmus Henry, Asst. Information Officer INLG, Ijebu Igbo, the commendation was made, when the Commissioner commissioned 2 Rooms Medically Equipped Cabin, donated by the Rotary International, Ogun State Chapter, to the Primary Health Centre, Oke-Agbo, in Ijebu North LG, Ijebu Igbo.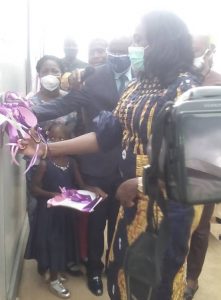 Dr. Coker, in her speech, applauded the Club for considering the State, as one of the beneficiaries of such a huge medical project, and also commended the Chairman, LG Transition Committe & other members, for their efforts in curbing the spread of COVID-19, pandemic, and the State Governor Dapo Abiodun, for his untiring efforts to attract landmark projects of international standards, to the State, and the opportunity given her to serve, as Commissioner, and, therefore, used the occasion to enumerate several health programmes of the Ogun state government.
She pleaded with the people, living in the area, to always patronize the Health Center, and implored all the health workers, at Oke-Agbo, Primary Health Centre, to constantly maintain and utilize the medical equipment, as expected, to the fullest benefits of the people at the grassroots.
The Transition committee Chairman, Hon Jayeola Olusola Yekeen, in his speech, appreciated Dr. Coker for her visit, out of her tight schedule, to commission the Medical Cabin.
He also applauded Rotary International, Ogun Chapter, led by Dr. Akeredolu and his members, for their involvement in many humanitarian and health services in Primary Health Care, in line with the Ogun state government objectives to make healthcare services available to all and sundry, through primary health care system.
Akeredolu who promised to be forever grateful to the Rotary International, for deeming his LG fit for such an international standard medical equipment, assured the judicious use of the commissioned medical items, with a plea, like Oliver Twist, for more of such gesture to his LG, by the Rotary International Club.,
In attendance were, HRH, Oba Stephen Adeleke Adekoya (Bejeroku of Oke-Agbo), Transition Committee members, HOLGA, Prince Tola Osunlaja, Information, Education & Sports Director, Bosun Ola Onabanjo, PHC Coordinator, (Mrs.) Ogunsilu, CNO Adekanbi Agnes, Dr. Ogunbadeje- Past District Governor Rotary Club. Dr. E.A. Ogunsola-Executive Secretary Ogun state Health Development Board, Dr. (Mrs.) Omtayo Fred Omojole-Snr. Special Asst to the Governor, on Health, amongst others.