By AbuSatar Hamed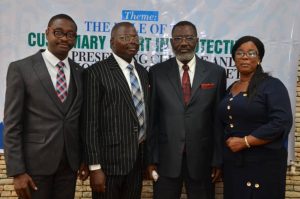 ILARO-YEWA – Ogun State Customary Court of Appeal (CCA), held its 2022 annual Retreat for Honourable Judges, Officers of the Customary Court of Appeal, Presidents and Members of Customary Courts across Ogun State.
The event which took place at Yewa Frontier Hotel, Ilaro-Yewa, Ogun State between November 27 and 29, 2022 was themed: "The Role of the Customary Courts in Protecting and Preserving Culture and Tradition in a Modern Society".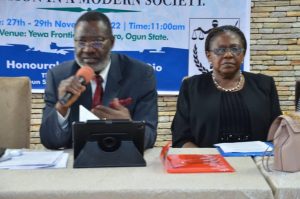 In his welcome address at the programme, the President of Ogun State Customary Court of Appeal, Hon. Justice Mobolaji A. Ojo, disclosed that the main objective of the retreat was to complement efforts of the National Judicial Institute in providing continued legal education for Judicial officers, Judges of the Lower Courts and different categories of officers of Courts, in order to improve their overall knowledge and enhance their performance in their different sections of service.
The experienced and well-versed Hon. Judges of Ogun State Customary Court of Appeal, as well as the Guest Speaker, Hon. Justice W.O. Akanbi, retired President of the Osun State Customary Court of Appeal delivered the carefully selected topics on the scope, relevance, applicability of Customary Law, ethics, and code of conduct for Judges of the Lower Courts.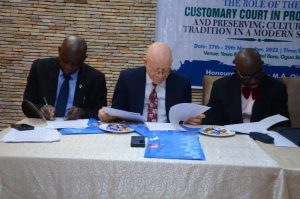 Other presenters at the event were the Lordships – Hon. Justice A.O. Araba, Hon. Justice P.O. Akinsinde and Hon. Justice I.A. Odugbesan.
The Retreat was also held towards the expandsion and enhancement of professional knowledge and skill of participants, and at the same time provided an avenue for relaxation.
At the Gala Nite which took place in the evening of Day 2 of the Retreat, all the participants, including the Hon. President and other Hon. Judges of the Ogun State Customary Court of Appeal took time off to unwind.