The Ogun State House of Assembly has condemned the incessant killing of innocent citizens of the State by men of the Nigerian Customs Service describing it as a dastardly act.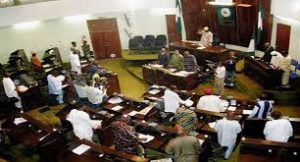 The lawmakers in their various submissions during today's plenary lamented the alleged killing of a commercial driver Saubana Koleoso, whose vehicle while being pursued and allegedly shot at by customs men swerved to cause another accident having collided with an on-coming car causing the death of two others at Kobape area along Sagamu-Siun Expressway last week.
Members including the Majority Leader, Adeyinka Mafe, Honourables Ganiyu Oyedeji, Akinpelu Aina, Idowu Olowofuja and Bowale Solaja called on the Federal Government to step up measures at checking the excesses of the Nigerian Customs Services which had in recent time resulted to loss of innocent lives and properties in the State.
Other Honourable members like Adebiyi Adeleye, Olusola Sonuga, Adeyemi Harrison, Oludare Kadiri and Tunde Sanusi called on the agency to restrict their operations to border areas, saying there was a need for them to carry out their operation with utmost professionalism and discretion to avoid loss of life.
According to the assembly men, nobody supported economic sabotage but the officers and men of the Nigerian customs must ensure more sanity at boarder communities in line with their statutory duties describing the incident as an extra-judicial killing by the customs which must be investigated.
Responding , the Speaker, Rt. Hon Suraju Ishola Adekunbi commiserated with the families of the victims and described the action of the men of the Nigeria customs as unacceptable, assuring that government especially the Assembly as part of its quasi-judicial functions would engage the agency towards ensuring more professionalism in the discharge of their duties.
He said that the agency needed to put human face and adopt discretionary power in carrying out its operation, warning that government would not watch its citizens to be killed all in the name of pursuing smugglers.