(BEING TEXT OF ADDRESS DELIVERED BY PRINCE GBOYEGA NASIR ISIAKA (GNI), THE PROMOTER OF TBM, AT ITS ONE-DAY PUBLIC DIALOGUE AND EMPOWERMENT PROGRAMME, IN AKE PALACE, ABEOKUTA ON 31ST OCTOBER, 2017)
PROTOCOLS
I consider it an enormous privilege to stand before this great gathering this fine afternoon; and to say a few things in support of a noble idea. As a people, we are again on the verge of history because at every point in human existence, a people must out of necessity and relative obscurity, redefine their existence, discover purpose and either fulfill or betray it – That is according to Frantz Fanon. What we are here to do today is to find answers to the questions of life and why the People – especially in this clime – and despite the potentials and opportunities inherent within us – continue to live rather abysmally. I sincerely appreciate the Management of The Believe Movement and everyone associated with this idea, for the unquantifiable commitment and excellent work done so far.

On that note, I will indulge myself in once again welcoming the invited dignitaries and all delegates to this occasion; I feel honoured and I thank you so much for your patience and focused participation since the beginning of this event. As the Promoter of TBM, I am delighted that a vision is being fulfilled and what started as an idea is now bearing concrete fruits. The Director General of TBM, in his welcome address spoke eloquently on the ideals of this Movement; what it stands for, its vision, mission, core values; and of course, the results it has posted since inception. I will not need to go that route again but I will rather take us on a brief journey of where we are coming from, where we are now and what the future holds for us; albeit from my own perspective.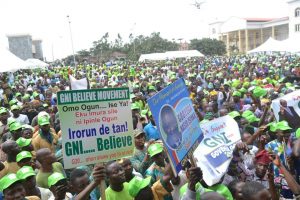 I come from a humble background having spent most of my early life in my hometown, Imeko. Those were very rocky moments when the future looked uncertain because the existential realities around did not immediately offer a path to future greatness. It was the days when the only available source of drinking water is from either of our two streams; the only available health facility was a government owned clinic; power is generated from either kerosene lamps or even more (crude) locally fabricated devices and vehicles can be counted practically on finger tips. The mainstay of our people was subsistence farming and the average per capita income could not have been anywhere near the World Bank parameters of poverty. From my early days therefore, I understand and felt what challenges of life are.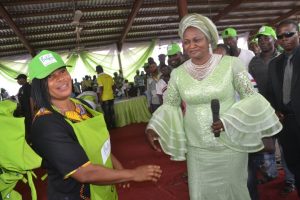 Of course, this picture was not necessarily peculiar to my native Imeko, the same story could be seen in many communities around us and same scenario largely replicated itself in most of the rural communities across the country. There was widespread lack of amenities, opportunities were far in between; poverty and diseases pervasive; inequalities festered in the land; poor leadership helped to keep the masses at consistently subsistence and subservient levels; and of course, the monster of corruption perpetually undermined development of the people and the environment. That was the reality some of us experienced while growing up. It was a tough luck to break the success code.
From this challenging scenario, I made up my mind early that the prevalent social and economic conditions were not going to define me or determine how I will end my life journey. I confronted the challenges, burned the midnight candle and struggled to attain modest academic achievements.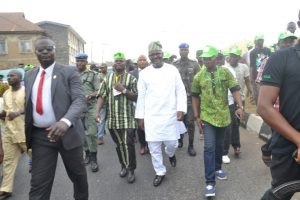 My post-university experience later traversed the banking sector largely, painstakingly rising up the ladder till I veered into public administration via my participation in the economic management of the then government in Ogun state. A few years ago however, especially combining the experience working in the private sector and working with government, I had thought that there exist the chance for our communities, the cities, our state and nation as a whole – to develop and break free from the shackles of retrogression.
My expectation was hinged on the fact that there are clear opportunities for growth. The abundance of human and natural resources ought to predispose us to a life of abundance. The knowledge acquired in government was even more profound in my appreciation of the kind of unpleasant situation we found ourselves. I realized that government is the driver of progress and it is the platform for creating opportunities with the people's resources, the people's active participation and for the ultimate benefit of the majority of the people at all times.
But then, what is our current reality at this time in our nation, where are we today in the search for true nationhood and what is our current experience despite the potentials for growth? The public narrative today is that of hopelessness and despondency. I see the precarious reality of our environment littered with ballooning poverty, heightened insecurity, poor social and physical infrastructure, inadequate social services and unemployment. I see lack in the midst of plenty, I still see people drinking water from sources worse than I experienced at growing up several years back; What a shame! I still see clinics without drugs, taps without water, homes without toilets, schools without roofs, high maternal mortality, children dying from avoidable communicable diseases, communities without decent roads and many more relics of underdevelopment. In all of these, I see the palpable failure of leadership and bad governance at all levels.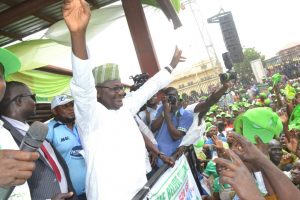 Ladies and Gentlemen, the theme of this dialogue is "Enhancing the Social Contract through Values-Driven Governance", and I thank the keynote speaker for doing a good job of it. The Social Contract for me, are the binding agreements on the roles and responsibilities of the leader and the led. The People own sovereignty and the resources; while a leader is only a nominated administrator (via elections) who utilizes the resources on behalf of the people, ultimately for their welfare and progress; as guaranteed in our ground norm- The Constitution. I think it is the misplacement of priorities or lack of understanding of this simple role that is responsible for bad governance and the concomitant underdevelopment in our clime. Added to leadership failure is the collapse of our moral fabric and degradation of our values system as a people.
Today, leaders are either bereft of ideas, or chose to go on ego-trip of personal aggrandizement, thereby depriving the people of their basic needs; whereas, government exist for the welfare of citizens and a leader is conscripted to give the people what they need rather than what he feels. Because of the people's bitter experience with bad or visionless leaderships, there is cynicism and distrust between the leader and the led. This lack of confidence and disconnection has been the license constantly explored by insincere and mediocre leaderships to misbehave, initiate bad policies, do whatever catches their personal fancy and misuse the taxpayer's resources. On the part of the leader and the people too – Integrity, honesty, patience, character and delayed gratification – are values that have been lost. This decline definitely cannot continue! Some of us with a date with history must rise to arrest this decline; and that was the inspiration behind The Believe Movement.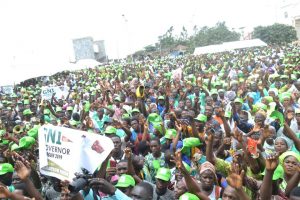 Dear delegates, I stand on the threshold of history to declare that we cannot continue on this path to nowhere. Men of conscience must rise to condemn the failure of leadership and the complicity of followership – by driving a Movement or other ideas that will nudge society back to the path of values and sustained socioeconomic progress via responsible leadership that is accountable and aware of its obligations and a responsive citizenry that is aware of its fundamental rights and civic commitments. This done, I see a future that is full of exciting possibilities. The Believe Movement has taken up the charge through its concerted effort at values orientation and civic enlightenment. Our nation has the resources, we have the population, we have the knowledge but what is lacking is harnessing them for growth. We can indeed shape the future that we want and I, Gboyega Nasir Isiaka, is determined to play my role in that future. Emerging economies like ours cannot afford to wallow in deep-rooted systems that are driven by mediocrity and weak leadership.
My role in that future is to promote development anchored on a new paradigm of leadership; as John Maxwell puts it, "Everything rises or falls on leadership". I desire new ways of thinking, aligning our systems and processes such that government is organized to work. We must transform our economy to one driven by team work, knowledge and technology. The focus must be governance driven by values and which provides the required infrastructure and social services to improve the quality of lives in our communities. We must desist from system that appears rigged against the people for the benefit of the political elite who continue to milk them, providing tokenism in return.
The question is, why is the political system flourishing while the citizens languish in poverty and want? I think the state of our politics calls for introspection as we need to reform the political system to enable it become ideologically driven, properly managed and people-oriented. Our people's choice of political leaders seeking elective office must be based on sound criteria like Character, Capability, Courage, Integrity, Sincerity of Purpose and deep understanding of the job at hand and the environment under context. Our people must be more vigilant on the identity, character and antecedent of who is running for office. In the face of this broken political system, the people must learn to reject inducements while exercising their voting rights. Moneybags with inordinate ambition must be rejected in favour of candidates with track record and programmes that directly affects their social and economic needs. This is why The Believe Movement is set up to engineer the conversation around citizenship and values orientation, so that the people can effectively, rationally and knowledgeably make credible choices in our democratic process.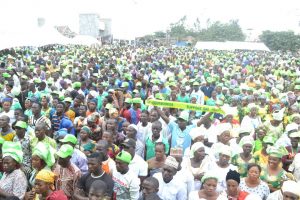 Patriots, I have spoken thus far as a private citizen desirous of a prosperous society, but as a politician, I will attempt to conclude my address by saying a few things around the forthcoming 2019 election in Ogun state as a lot of people here would expect me to so do; having contested in the last two gubernatorial elections. Let me state without equivocation that I am in the 2019 governorship race and more determined this time around to contest and win convincingly. My mission is to stimulate the unique potentials of our state, attract key partners in a constructive and collaborative development process that factors the active participation of the people for their immediate and future benefit. The leadership I hope to provide from 2019 will encourage the thriving, support the striving and take care of the weak. I plan to conduct governance with vision, integrity, courage and strong leadership that will further put our dear state on the path of peace, opportunity, equity and prosperity for generations to come. I will stop here on these few points because this is not a political event, but it is imperative for me to mention that Ogun state is not for the highest bidder, it is not for expanding personal political fiefdoms, it is not available for those who don't know the needs of the people; and at the right time, Ogun people will choose a leader they know and believe in.
Finally, I will continue to push the ideals of The Believe Movement towards ensuring that the minds of our people become liberated from slavish mindsets. I also remain active on the political field; while I shall continue to build strategic relationships and networks around the political space for the ultimate realization of my ambition to make Life More Abundant for the people of Ogun State.

Once again, I salute all delegates to this Public dialogue, I love you and appreciate the loyalty and believe in my person. To all invited guests, I want us to leave here with the conviction that if we all do the right things, shun the worn out system and embrace the fine ideals propagated here today; we would have set ourselves up for a truly prosperous nation. Importantly, I urge all Ogun state people to join The Believe Movement in your locality today and be part of the positive wind of progress. Irorun De Tan!!!
I wish everyone well in all your endeavours, and safe journey back to our respective destinations; but in the meantime, let us enjoy the rest of the programme as a lot of exciting items remain on the agenda.
God bless you all.
Gboyega Nasir Isiaka FCA, FCS