The present administration in Ogun State has pledged to ensure significant improvement in the health sector, in order to provide efficient healthcare delivery to the citizenry.
According to a release signed and made available to StarTrend Int'l magazine & www.startrendinternational.com by Oluwaseun Boye, Press Officer, Office of the Deputy Governor, the Ogun State Deputy Governor, Engr. Noimot Salako-Oyedele gave this assurance during a lecture and book presentation, commemorating the 60th birthday of  Professor Babatunde Lawal Salako, a Professor of Nephrology, College of Medicine, University College Hospital (UCH) and Director General of the Nigerian Institute of Medical Research, Yaba Lagos, held at Emeritus Professor T.O. Ogunlesi Multipurpose Hall, UCH, Ibadan.
Engr. Salako-Oyedele, said the lecture was an eye opener to the challenges, implementation of health policies and how to develop the health sector in the country, saying government was committed to improving the primary healthcare system through specialised health care centres, as well as improved training programmes for medical personnel.
Delivering his lecture, "Cutting Edge Research in Non- Communicable Disease in Low and Medium Income Countries: Raising the Bar", Prof Ikechi Okpechi of Hypertension and Nephrology Division, Department of Medicine, University of Cape Town, South Africa, said Non Communicable Diseases (NCDs), were the combination of genetic, physiological, environmental and behavioural factors responsible for the loss of lives of over 41 million people annually, equivalent to 71 percent of deaths globally.
He noted that 15 million people between the ages of 30 and 69 died from a NCD each year, adding that over 85 percent of the premature deaths occur in low and middle income countries, while cardiovascular diseases account for most NCD deaths of 17.9 million people, followed by cancers 9.0 million, respiratory diseases 3.9million, and diabetes 1.6 million, annually.
The lecturer stated that the brain drain being experienced in the Sub-Saharan Africa, inadequate funding, limitation in health research and development, were factors militating the health system in Nigeria.
Earlier in his remark, the Chairman of the occasion, who was a former Minister of Health, Professor Isaac Adewole, gave accolades to the celebrant and urged him not to relent in his service to humanity, advising people not to form the habit of sitting for longer hours, as this makes them to be inactive.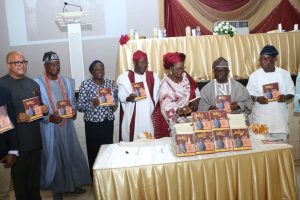 In his goodwill message, the Olota of Ota, Oba Adeyemi Obalanlege, described the celebrant as his role model, who mentored him in the art of diligence and hard work, saying his contributions to the welfare of his people and the world at large, cannot be over emphasized.
Responding, the celebrant, Prof. Babatunde Salako, appreciated the guests for their support, noting that his experience had taught him that government needed the collaboration of all, he therefore called on individuals and private organisations to support government's efforts in revamping the health sector.