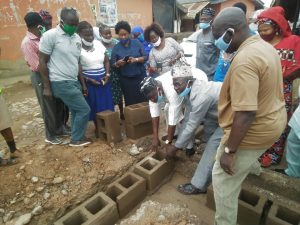 ODEDA LG, JUNE 4, 2020: The Transition Committee Chairman, Odeda Local Government, Hon, Semiu Bola Lawal, has pledged the commitment of his administration towards even distribution of projects, within the ten (10) wards of the Local Government Area, in line with the principles and policies of the Ogun state government, ably led by Governor Dapo Abiodun.
According to a press release e-signed by and made available to StarTrend Int'l magazine & www.startrendinternational.com by Yinka Odeyinka, Director, Info., Edu. & Sports, Odeda LG., the LG helmsman, made the promise, during the ground-breaking and official foundation laying ceremony of fourty (40) open market stalls and Sixteen (16) lock-up shops at Gbonagun and Osiele markets, respectively.
Hon. Lawal, disclosed that his administration would be embarking on the first phase of six (6) main major projects, including the drilling of boreholes at Itesi and Opeji, construction of fourty (40) open market stalls, twenty (20) open market stalls and sixteen (16) lock- up shops, at Gbonagun, kila and Osiele, respectivrly, with the reconstruction and conversion of an old building, at Bakatari, to a police security post, in order to secure the Ogun and Odeda Local Governments boundary, with the Oyo State Government.
In his own remarks, the Chairman of the ruling party – All Progressive Congress (APC), in Ogun state, Chief Abdullah Oluyemi Sanusi, who graciously performed the foundation laying of the projects, described the programme as landmark achievement in the history of the Local Government.
Chief Sanusi, therefore, used the opportunity to commend Governor Dapo Abiodun (MFR) on the various developmental projects, embarked upon by his administration, while appreciating the efforts and committment of Hon. Lawal's administration, in ensuring that the impact of democracy was felt in every nook and cranny of Odeda Local Government area.
Dignitaries at the event, included the LG Vice Chairman, Hon, Musiliu Akindele, all members of the Transition Committee, Head of Local Government Administration, (HOLGA), Mrs Taiwo Akintomide, as well as other principal officers of the Local government.