BY RAYMOND OSHO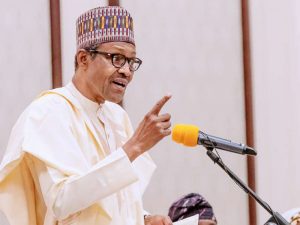 It is obvious that former President Olusegun Obasanjo is still worried by the present condition of the country, as he again sent an open letter to President Mohammadu Buhari, urging him to take quik steps to tackle the loads of challenges confronting the nation.
Obasanjo had on February, 2018 sent a similar letter to the President, accusing him of failure in leadership and asked him not to contest the 2019 election.
He expressed the fear that Nigeria was on "precipice and dangerously reaching a tipping point where it may no longer be possible to hold danger at bay."
In the letter, dated Monday, July 15, 2019, copies of which were released to journalists in Abeokuta on Monday July 15, 2019, the former President said he decided to make it an open letter because the issue was very weighty and must be greatly worrisome to all concerned Nigerians, and that means all right-thinking Nigerians and those resident in Nigeria.
The issue he was addressing was "Life And Death And Therefore Cannot Be Ignored Or Treated With Cuddling Glove."
Obasanjo said what were giving him headache and sleepless nights were the precarious security situation, especially Boko Haram menace which had been on for 10 years unabated and the atrocities of the herdsmen.
It reads, "With the death of Funke Olakunrin, daughter of Afenifere leader, Chief Ruben Fasoranti, Nigerian groups are saying "enough is enough".
"I am constrained to write to you this open letter. I decided to make it an open letter because the issue is very weighty and must be greatly worrisome to all concerned Nigerians and that  means all right-thinking Nigerians and those resident in Nigeria."
"Since the issue is of momentous concern to all well-meaning and  all right-thinking  Nigerians, it must be of great concern to you, and collective thinking and dialoguing  is the best way of finding  an appropriate and adequate  solution  to the  problem.  The contents of this letter, therefore, should be available  to all those who can help in proffering effective solutions  for the problem of insecurity  in the land."
To be explicit and without equivocation, the former President said, "Mr. President and General (Buhari), I am deeply worried about four avoidable calamities".
Obasanjo said some of the things he was deeply worried about were, "Abandoning Nigeria  into the hands of criminals who are  all being suspected, rightly or wrongly, as Fulanis and terrorists of Boko Haram type."
"Spontaneous  or planned reprisal attacks against Fulanis which  may inadvertently or advertently mushroom into  pogrom or Rwanda-type genocide that we did not believe could happen and yet it happened."
"Similar attacks against any other tribe or ethnic group anywhere in the country initiated  by rumours, fears, intimidation and revenge capable of leading to pogrom."
"Violent uprising beginning  from one section  of the country  and spreading  quickly  to other areas  and leading to dismemberment  of the  country."
"Without being immodest, as a Nigerian who still bears the scar of the Nigerian civil war on my body and with a son who bears the scar of fighting Boko Haram on his body, you can understand, I hope, why I am so concerned.
"When people are desperate and feel that they cannot have confidence in the ability of government to provide security for their lives and properties, they will take recourse to anything and everything that can guarantee their security individually and collectively."
"The main issue, if I may dare say, is poor management or mismanagement of diversity which, on the other hand, is one of our greatest and  most important assets. As a result, very onerous cloud is gathering. And rain of destruction, violence, disaster and disunity can only be the outcome."
His suggestion to tackle the situation were "mobilisation for national unity, stability, security", saying "there is no cooperation, development, growth and progress, there is no consensus."
"Like in the issue of security, government should open up discussion, debate and dialogue as part of consultation at different levels and the outcome of such deliberations should be collated to form inputs into a national conference to come up with the solution that will effectively deal with the issues and lead to rapid development, growth and progress which will give us a wholesome society and enhanced living standard and livelihood in an inclusive and shared society."
"It will be a national programme. We need unity of purpose and nationally accepted strategic roadmap that will not change with whims and caprices of any government.  It must be owned by the citizens, people's policy and strategy implemented by the government no matter its colour and leaning."
"Some of the groups that I will suggest to be contacted are: traditional rulers, past heads of service (no matter how competent or incompetent they have been and how much they have contributed to the mess we are in), past heads of para-military organisations, private sector, civil society, community leaders particularly in the most affected areas, present and past governors, present and past local government leaders, religious leaders, past Heads of State, past intelligence chiefs, past Heads of Civil Service and relevant current and retired diplomats, members of opposition and any groups that may be deemed relevant."
"The President must be seen to be addressing this issue with utmost seriousness and with maximum dispatch and getting all hands on deck to help.  If there is failure, the principal responsibility will be that of the President and no one else."
This letter concluded, "For the sake of Nigeria and Nigerians, I pray that God may grant you, as our President, the wisdom, the understanding, the political will and the courage  to do what is right when it is right and without fear or favour.  May God save, secure, protect and bless Nigeria. May He open to us a window of opportunity that we can still use to prevent the worst happening.  As we say in my village, "May God forbid bad thing".