BY FUNSHO BALOGUN
The Awujale of Ijebuland, Oba Sikiru Kayode Adetona is a remarkable monarch with sterling qualities. As a matter of fact, he is several virtues rolled into one – a virtuous king, quintessential family man, thoroughbred professional, accomplished businessman, philanthropist and more importantly, a compassionate entrepreneur who has made and is still making thousands of entrepreneurs through various means.
        Available records reveal that the monarch recently gave over N40 million soft loans to 100 beneficiaries to buy commercial tricycle (Keke), with another batch of 200 beneficiaries waiting in the wings to also relish the package. By his creed, actions, utterances and empowerment initiatives over the years, Oba Adetona has shown that when it comes to empowering entrepreneurs in Nigeria's monarchical socio-economic milieu, no other traditional ruler comes close. He is the undisputed king of entrepreneurship. 
Apart from enjoying the rare divine grace of sitting on the much-exalted throne for close to six decades, the Ogbagba ll from the Anikilaiya ruling house, has established a reputation of being a king who puts the interest of his kingdom first in all matters, speaking truth as he deems appropriate to political powers that be, not minding whose ox is gored. His position on sundry issues, particularly as it concerns the interest of his people had pitched him against State executives in the past, while conversely keeping him at a level of heightened reverence, and making him a much-loved king by his subjects.
His foray into business, where he recorded much success, has earned him greater respect among his subjects and many other Nigerians.
His acknowledged entrepreneurial prowess served as a bedrock that informed his foray into giving the entrepreneurial spirit of others within his kingdom a big boost. Such benevolence and other accompanying attributes already secure him a permanent high place on the list of outstanding kings in the annals of Ijebuland.
Born in 1934, Oba Sikiru Adetona was enthroned as the Awujale of Ijebu Kingdom in 1960, the year of Nigeria's Independence, at the age of 26. Now 85 years old and 59 years on the throne, Oba Adetona's place in history is secured as Nigeria's longest reigning monarch. His parents were Prince Rufai Adetona and Alhaja Ajibabi Adetona (nee Onashile). As a young prince, he attended Baptist School, Ereko, Ijebu Ode; Ogbere United Primary School, Oke Agbo Ijebu; and Ansar-Ud-Deen School, Ijebu Ode between 1943 and 1950.
His Secondary Education was at Olu-Iwa College (later merged with Ijebu-Ode Secondary Commercial School into Adeola Odutola College), Ijebu-Ode, from 1951 to 1956. Armed with his secondary school certificate, the young Adetona secured his first job at the Audit Department of the Western Region, Ibadan in 1957. But it was a short-lived experience, ending the following year, 1958, courtesy of his quest for further studies in accountancy in the United Kingdom. However, his sojourn abroad was truncated In January 1960, as his return home became inevitable, having been chosen in absentia as the new Awujale.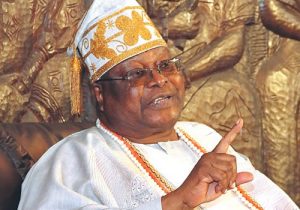 And upon his return, the Head of the Ijebu-Ode Regency Council,   Chief Timothy Adeola Odutola, formally presented the fresh monarch to all, marking the first step of the installation ceremony of the new Awujale who was formerly coronated later in April 1960. This was soon followed by an acknowledgement of his uniqueness and charisma through his nomination by other eminent monarchs for the post of the Presidency of the House of Chiefs, alongside an older and senior king, the then Ooni of Ife, Late Sir Adesoji Aderemi. Although Oba Aderemi eventually emerged the elected President, the young Awujale's profile had received a significant boost, having been singled out as a worthy contestant by fellow kings.
         Oba Adetona ascended the throne at a point in Nigeria's history which marked a departure from old traditions which ensured the welfare of traditional rulers were well taken care of by sundry material contributions by subjects within the kingdom and from vassal or tributary territories. With the new political dispensation came a new government template that placed the monarchs under the politicians in power that paid salaries to kings.
He had no illusions about the consequences of relying on miserly monthly hand-outs by politicians. He knew the lord that pays the piper would dictate the tune. And to keep his respectability intact, he sought streams of income, plunging into viable ventures that flourished and gave him financial security. Over decades, he diversified as appropriate, building on his initial successes.
The Awujale ventured into the logging business decades ago, having more than fifty lorries at a point as the business thrived. He also had about 50 trailers involved in haulage and transportation. He pumped the proceeds from these ventures into a string of successful distributorship businesses, distributing goods for many companies including Nigerian Breweries Limited and major cement companies. Apart from his shares in several companies, Oba Adetona did profitable business through alliances in enterprises involving foreigners of Chinese and Lebanese extraction.
As a monarch constantly striving to do his bit towards upping the economic status of his people, the Awujale currently encourages entrepreneurship through several initiatives. Within the expanse of his palace, he established a Microfinance outfit open to market women and traders, offering loans at low interest rates to boost their businesses. The Microfinance outfit also lends support to bee farming ventures through loans, while fish farmers have also been beneficiaries of the Microfinance scheme.
As earlier stated above, to further spread the reach of his empowerment scheme to capture a segment of the unemployed in his kingdom, Oba Adetona has expended over N40 million on the purchase of tricycles for commercial purposes on convenient and flexible hire purchase terms.
The scheme has recorded a hundred beneficiaries, with about 200 others on the waiting list. The tricycles come at a far cheaper price compared to what private dealers offer. Apart from his personal entrepreneurial attainments, Oba Adetona's commitment to raising the standards of his people's livelihood through these entrepreneurship boosting, made it inevitable for the Editorial Team of makeitglobal.biz to adjudge the monarch as the August Entrepreneur of the month.
 "A traditional ruler must be stubborn and unwavering in his refusal to compromise the truth or the integrity of the Obaship institution, whatever the occasion."
Oba Sikiru Adetona boasts of honorary degrees including the Doctor of Law (LL.D) from the University of Technology, Yola and Doctor of Civil Law (D.CL) from Ogun State University, now Olabisi Onabanjo University. He was Chairman of Ogun State Council of Traditional Rulers and also served as Special Envoy to South Africa.
Funsho Balogun is the Contributing Editor, Makeitglobal.Biz