ILARO-YEWA – The Olu of Ilaro & Paramount Ruler of Yewaland, Oba (Dr) Kehinde Gbadewole Olugbenle MFR, Agunloye IV, has tasked members of the Recreation Club, Ilaro on developmental endeavours.
The first-class monarch in Ogun State stated this on Saturday, August 27, 2022 at the Presentation of Awards and Induction of New Members, held at the RCI Clubhouse, Governor's Lodge Road, GRA, Ilaro-Yewa,
The Paramount Ruler who was unavoidably absent, but was represented by Chief Ayo Dawotola, the Otun Aguro of Ilaro-Yewaland extolled and celebrated some members of Recreation Club, Ilaro who recently become members of the Olu-in-Council, as he urged them to continue on the path of fostering unity for the development and progress of the land.
Oba Olugbenle however enjoined the club, especially the newly installed Chiefs and the newly inductees, respectively to continue and join hands with him in the development of Ilaro-Yewaland, Ogun State and Nigeria as a whole.
"Kabiesi said you shouldn't rest on your oars. That you should open your doors to the younger ones so that they can come in to emulate you.
"Put them through on how to become better citizens in the community. Yewas as a people are not known for crime. No member of Recreation Club, Ilaro has ever been jailed or involved in any criminality. And never will such happen.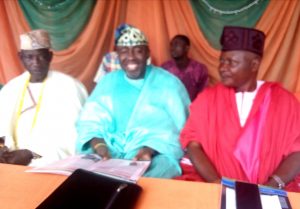 "His Royal Majesty wanted me to expressed his love for you, as he promised more interactions by the time he returns from his trip to overseas.
"Agarawu Orunmila prayed God's protection over all members of RCI and your families", Chief Dawotola posited.
In his goodwill message, the Onidogo of Idogo-Yewa, Oba Saheed Olubiyi commended the Olu of Ilaro for facilitating prosperity across Yewaland, saying the Chieftancy titles bestowed on members of Recreation Club, Ilaro no doubt would continue to enrich and spurs the Club towards developmental undertakings.
Oba Olubiyi advised new members as well to take after the founding members who have been selfless in the service of the Club and Yewaland in general.
His words, "I am using this time to join RCI in celebrating her own who were newly bestowed with various Chieftaincy titles and to implore the newly inductees to follow the shining examples of the founding fathers of this noble Club".
In a Goodwill message sent to the club on the occasion, the ADC Governorship candidate, Barr. Olubiyi Otegbeye thanked the Paramount Ruler of Yewaland, His Royal Majesty – Oba (Dr) Kehinde Gbadewole Olugbenle MFR, Asade Agunloye IV, for deeming it fit to recognize and honour some members of the "foremost social association in Ogun State, as well, he congratulated the newly installed Chiefs for the Royal honour.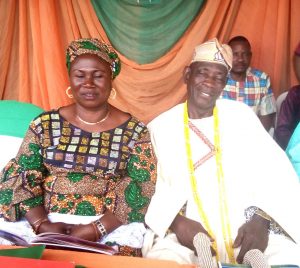 BOT as he's fondly called by his followers also welcomed the newly inductees, while he enjoined them to cooperate with the old members towards giving the club a facelift that would make it to compete with similar recreational centres in the neighboring states.
"It is on this note that I wish to thank members of this great club for considering me to be part of this epoch event. I sincerely appreciate your gesture and promised to make myself available at any event the club embarks upon in the nearest future.
"I pray that the grace of God be upon you all and your families, and it will never depart from you, in Jesus name. Amen.
"As a parting note, I want to remind you my brothers that elections period are at the corner and I want us to use our voting power to correct the very many anomalies against our region. God help us all", BOT, Managing Director, Regency Alliance Insurance Plc posited.
In his welcome address, the President of Recreation Club, Ilaro, Pastor 'Wale Olaode, appreciated the presence of invited dignitaries at the occasion, adding that it's a great honour he can neither deny or take for granted.
Pastor Olaode said he was happy to identify with some members who were honoured by Olu-in-Council and the Paramount Ruler of Yewaland with appropriate Chieftaincy titles, which was a deserved recognition for their selfless service in their various fields of human endeavours.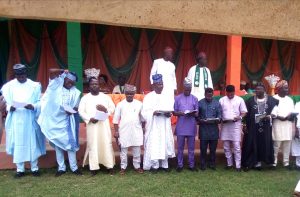 "While expressing my gratitude to His Royal Majesty, Oba (Dr) Kehinde Olugbenle for extending this great honour to us by recognizing these stalwarts and gentlemen, I heartily congratulate our members who have been considered fit to receive such titles.
"I also appreciate the Chief Imam Tajudeen Mustapha-Adewunmi, the Chief Imam of Ilaro Central Mosque, Ilaro-Yewa, Oba Saheed Olubiyi, the Onidogo of Idogo-Yewa for the honour bestowed on our members".
May the good Lord continue to bless, guide and protect you all, including your families.
The President however called on the youths to follow the footsteps of good number of patriots who have done Yewaland proud.
Hear him, "I'm deliberately calling the attention of young people in the direction of these great achievers because the situation in our dear country now is at the best decadence and one cannot therefore, but feel pity for your immediate and distant future.
"The common saying is that the youths are the leaders of tomorrow. Each time I hear this, I always ask myself the recurrent question, "Which youths?". We live in a world now in which the golden virtues of hardwork, diligence, industry and healthy rivalry have become extinct, and inordinate ambition and the mad rush for wealth have become the order of the day.
"We have in our hands a country where internet fraud, known as "Yahoo Plus" and "Yahoo Extra" have become the songs on the lips of young people.
"It's my sincere hope that young people will imitate the good examples that these people have laid down and invite the virtue of no short cut to success, other than hard work.
"Once again, our great RCI heroes, I congratulate you wholeheartedly, and wish you resounding success in the course of pursuing the tasks and responsibilities that are attached to your various offices.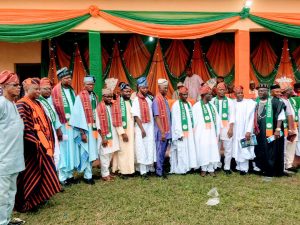 "I pray that you will not be found wanting, and you will continue to advance from one pedestal of glory unto greater one. The grace of God shall surely preserve you."
Pastor Olaode opined, "Lastly, today, we are also witnessing the induction of new members into the club. As we know, this Club does not admit just anybody. Those for induction today have been screened and found worthy of admission.
"It's my prayer that as you're joining the Club today, it would further enhance our race to greater heights, and both you and the Club shall not regret our association with one another", the President, Pastor Olaode prayed.
RCI President also used the occasion to thanked all the past President of the club, his Exco and entire members of the club for their continued unflinching supports.
He prayed that God in His infinite mercies shall continue to bless them abundantly.
The newly installed RCI members include Senator (Chief) Solomon Olamilekan Adeola (Gbobaniyi of Ilaro-Yewa & Aremo of Yewaland); Chief (Mrs) Hon. Lateefat Bolanle Ajayi (Yeye Ewe of Ilaro-Yewa), wife to Otunba Femi Ajayi, a member of the club; High Chief Abiodun Olamilekan Ilo (Adele Olu of Ilaro-Yewa); Chief Shafarudeen Popoola (Bobatolu of Ilaro-Yewa); Chief Ayo Dowotola (Otun Aguro of Ilaro-Yewa) and Chief (Alhaji) Rafiu Abidemi Akinola (Otun Bobajiroro of Ilaro-Yewa).
Others are Chief (Dr) Banji Ogunbiyi (Baajiki of Ilaro-Yewa); Chief (Engr) Segun Kehinde (Aare Onimoero of Ilaro-Yewa); Chief (Engr) Idowu Onifade (Otunba Onimoero of Ilaro-Yewa); Chief (Mrs) Ganiyat Damilola Onifade (Yeye Otunba Onimoero of Ilaro-Yewa); Chief (Alhaji) Haruna Jimoh Adeola Eyekole (Aare Bobaseye of Ilaro-Yewa); Chief (Alhaji) Mufutau Abidemi Olabimtan (Asoju Oba of Ilaro-Yewa); Chief (Engr) Tai Kolawole Oyekan (Aare Bobaselu of Ilaro-Yewa) and Otunba (Elhadj) AbuSatar Idowu Hamed (Otun Baaroyin of Ilaro-Yewa).
Also, Chief (Pham) M.A. Lawal (Seriki Musulumi of Ilaro Central Mosque) and Chief (Alhaji) Mukaila Tunji Idowu (Mayegun of Idogoland).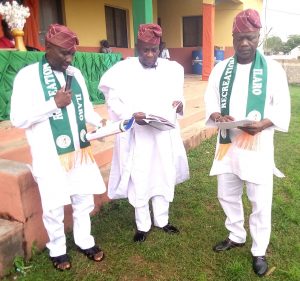 The newly inducted members are Dr. Taiwo Akeem, Mr. Adekanmbi Adetunji, Mr. 0lurin Babatunde, Chief Popoola Olugbenga, Mr. Ogunsanya Oluwatosin, Chief Oderinde Nurudeen, Hon. Joda Amos Abayomi, Alhaji Bankole Idris, Mr. Agbokeye Olayinka Michael, Mr. Shamwil Ajibola, Mr. Sheriff Bhadmus an Mr. Olurin Taiwo Olufemi.
The screening committee include Alhaji Tunji Adebiyi (Chairman), Elder Oyeniyi Ojo, Mr. Adam A. Songosina, Mr. Salako Kayode and Sola Ojo (Secretary).