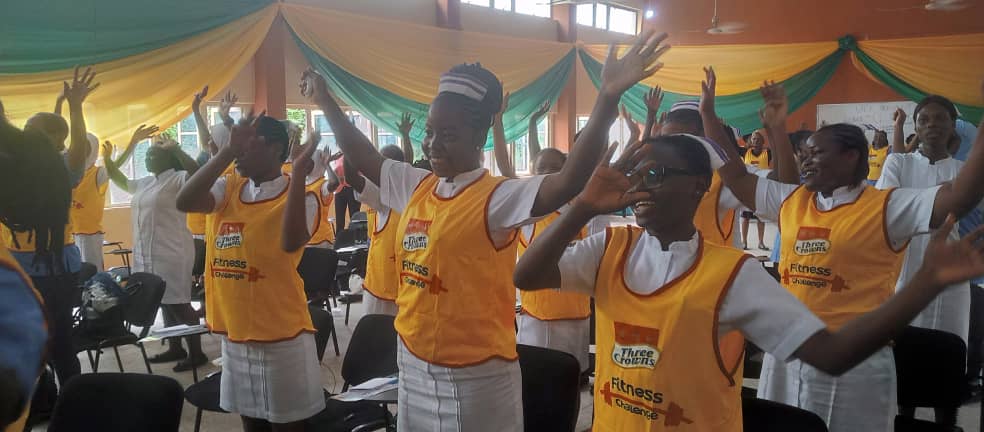 ABEOKUTA – The Permanent Secretary, Ogun State Hospital Management Board (HMB) Dr. (Mrs) Olayinka Elemide, has charged professional in the field of nursing to always keep accurate information and correct report of their patients, as this could be between life and death.
The charge came while declaring open a two day training for nurses with the theme: "Cultivating Effective Communication: The Power of Report Writing In Nursing Practice" held recently at Nursing Hall, Federal Medical Centre (FMC), Idi-Aba, Abeokuta.
Elemide said that the training would equipped them as a caregiver on how effective communication could empowered them to give much desired report on their patients when handing over duty post.
While urging the participants to pay rapt attention to the lecture, Elemide, appreciated the organizers of the training, adding that training and re-training of staff would be the focus of the present administration-led by the state governor, Prince Dapo Abiodun.
The Chairman of the occasion, the Director, Nursing Services, HMB, Comrade. Abiodun Olakanmi in his speech, said it is important for nurses to come together and share ideas, ask questions and critique the speaker in order to deliver and make them understand better, while delivering effective communication to clients and patients means in order to guide against unexpected emergencies.
He noted that a wrong information or report on a patient could either make or mar his/her life.
In their separate goodwill messages, the Head Zone, Dr. Adewunmi Alayaki, said Nurses must keep updating their knowledge, saying when knowledge not updated one would be outdated while the Director Planing Research and Statistics, HMB, Dr. Wellington Ogunsanya, said nurses were in the business of savings lives, as they need to keep abreast of the modern development and pay more attention as the training would help them a lot in the delivery of their duty.
In her keynote Address, the Provosts, Ogun State College of Nursing Abeokuta Dr. (Mrs) Sodimu Jeminat said that to get the best out of your patient as a nurse effective communication, verbal and non verbal communication was very key, stressing that it was the responsibilities of all nurses to carried out actions and activities on the patients with regards to his or her health related issues.
Sodimu, said report written help to facilitate the exchange of critical information between the healthcare professional as well as ensuring continuity of care giving to their patients.
She added that nurses must intimate themselves with different types of report writing like incident, transfer, telephone, nursing progress reports and others as report must be able to reflect the background problem of the patients.
She said the person taking over from you, must get the full detailed information on the patients you are reporting on, saying necessary care could be given to the patient being reported for continuity in treatment.
Presenting her paper, Nurse Bolanle Akingunola said communication was basis of life as working together with other professional, noting that if nurses were better trained on effective communication, patients would not have him or herself discharge with the nurses or doctors report.
Akingunola added that effective communication must be coherent conscious, concise, concrete and correct, saying, "dealing with patients name, date, time, sex of the patient you report must be accurate and avoid unnecessary abbreviation, but use abbreviation that is generalized and in a sequential manner."
Earlier in her welcome address, the Head of Nursing Services Abeokuta Zone, Nurse Mosuro Oluremi said effective communication with relatives, patients, co- workers, colleagues and others makes nursing report accurate and passes good information to other healthcare giver.
She said as a nurse you must always be abreast of information, adding, "once you are informed, there would be improvement in the outcome of your professional output."