BY ABIOLA RUFAI
Muslims have been advised not see anything too big to sacrifice for Almighty Allah and the propagation of Islam.
The Chief Imam of Ilaro Central Mosque, Alhaji Tajudeen Adewunmi gave the advice on Sunday August 11, 2019 at the 2019 Eid-El-Kabir celebration which took place at Oke-Ela Eid praying ground in Ilaro, headquarters of Ogun West. Alhaji Adewunmi who pointed out that people like to worship money than God, implored them to refrain from doing such.
"Our people spend money on wasted materials things rather than things that will promote Islam. We should turn a new leaf and begin to spend cheerfully for Almighty Allah, the mosque, our children's school fees and propagation of Islam," he said.
The Chief Imam also used the opportunity to reminded political leaders in the country on the need to imbibe spirit of accountability which according to him was the hallmark and quality of good leadership.
Alhaji Adewunmi who said that everyone would give account of his/her stewardship before Allah, called on politicians and public office holders to desist from dipping their hands into public purse for their private use, noting that such money would be giving adequate account before Allah.
On his own, the Plant Director of Dangote Cement, Ibese-Yewa, Mr. Nawabhudeen Azad, implored Muslims to love one another and believe in oneness of Allah while wishing Nigerians the very best of the season.
In the same vein, the Seriki Hausawa of Ilaro, Alhaji Musa Lawal congratulated all Muslims on the Eid-El-Kabir celebration while he enjoined them to always obey Allah. Alhaji Lawal advised Nigerians to eschew violence and live peacefully with one another.
Also speaking on the Eid-El-Kabir celebration, the Chairman of Ilaro Central Mosque Building Committee, Pharmacist M. A. Lawal urged Muslims to always be grateful to Allah with prayer that Allah should continue to guide and protect Nigeria and her citizens.
On their part, the Chief Executive Officer of Jumiat Nig. Ltd. Alhaji Olawale Matanmi and President of Ilaro Recreation Club, Chief Safarudeen Popoola, implored Muslims all over the world to have faith in Allah and fear Him, adding that Muslims should live a simple life
and render a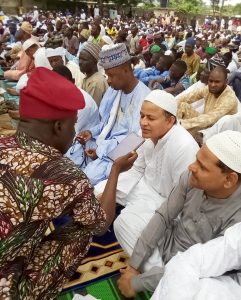 assistance to the needy at all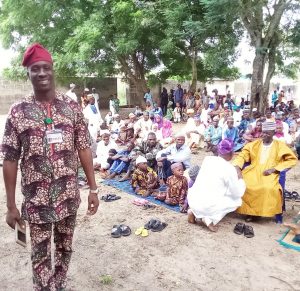 tim
e
s.