By AbuSatar Hamed
ILARO: The Nmale family of Ilaro, the family that traditionally has the prerogative right of producing the Adele Olu of Ilaro on Saturday, October 26, 2019, made history by adopting one of their illustrious sons – Abiodun Olalekan Ilo as the Adele-elect to be presented to His Royal Majesty Oba Kehinde Gbadewole Olugbenle, the Olu of Ilaro & Paramount Ruler of Yewaland and the Olu-in-Council, shortly.
The event that was held with pomp and pageantry at the Adele Oyekan's Compound, Modeolu-Kelodi Quarters, Ilaro, headquarters of Ogun West, was devoid of rancour and acrimony.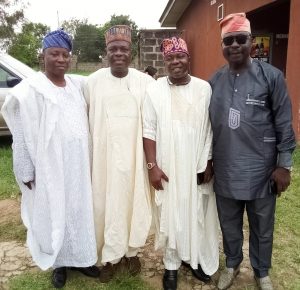 According to Dr. Tai Oyekan, spokesman for Nmale Family, the Adele-elect is of the Akinlade-Ilo, a component of the Okoku Family Unit, also an integral part of the larger Nmale Family.
He stated further that, the family appointed a 5-man committee to screen the candidacy of Abiodun Ilo and also reviewed issues bothering on the selection of prospective candidate in view of past experience of such.
The committee members include Madam Ayinke Fafunmi-Asaba (Chairperson), Alhaji Sunmola Adewale, Dr. Tai Oyekan, Alhaji Isiaka Adeyinka and Mr. Sakibu Raji Bamgbose (Secretary).
Abiodun attended CMS Grammar School and Ahmadiyya College, both in Lagos and he is a 1984 graduate of Geography at University of Ibadan, with an MBA degree from the University of Ilorin.
He is a former banker with Sterling Bank Plc and presently resides in New York, USA.
Abiodun Olalekan Ilo is a member of many social club which include Yewa Metropolitan Club, Ilaro, Recreation Club Ilaro and Yewa Chamber of Commerce, Mines, Industry & Agriculture (YECCIMA) among others. He is happily married with promising children.