By Seyifunmi Odunuga
IBADAN – NIiyi Alebiosu, the Chairman, Sports Writers Association of Nigeria (SWAN), Oyo State Chapter has been appointed into the Media and Publicity Committee of the Nigeria Football Federation (NFF).
According to the comprehensive list of the Committees and Appointees released on Tuesday, November 3, 2020, it was revealed that Mr Alebiosu was appointed into the NFF Media and Publicity Committee alongside other renowned sports journalists as Mr Tony Ubani, Kunle Solaja, Promise Efoghe, Toyin Ibitoye as well as Dapo Sotunminu.
Other members of the Committee are Alhaji Shuaibu Mungadi, Al Nasiru Zahradeen, Gowon Akpadunor, Mrs. Aisha Falode, the Chairperson, Media and Publicity Committee, Nigeria Women Football League, Mrs Aisha Falode while a long time Chairman of Enyimba Football Club of Aba Chief Felix Anyansi Agwu is the Committee's Vice Chairman.
Oyo Swan Chairman, Alebiosu, who works at Nigeria Tribune in Ibadan, Oyo State Capital, has been practising sports journalism for over twenty years.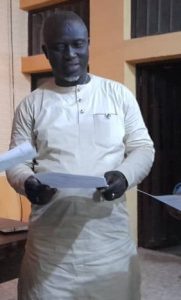 In the past two decades, the veteran sports journalist had travelled around the globe covering several national and international sports competitions including National Sports Festivals, the All African Games, the Olympics as well as Football's World Cup Tournaments.
Alebiosu, who was first elected as the Chairman of the Oyo State Chapter of the Sports Writers Association of Nigeria in May 2016, was last month re-elected for second term in office.
The new NFF appointment is the latest in the series of the public positions he held, having served in the Media Sub Committee of the 2009 FIFA Under 17 World Cup in Ijebu Ode, Ogun State.
The Outstanding Sports Journalist had also worked as Media Officer for the Youth Sports Federation of Nigeria (YSFON) as well as serving as Media Consultant to Nigeria School Sports Federation.