ABEOKUTA – The Nigerian golfing communities have described the death of Chief Oluleke Akinyemi as very sad and shocking, saying Nigeria Golfing Community has lost another great golfer of repute.
Speaking with newsmen, the Co-ordinator of Hole 19/20, Hollers of Nigeria, Dolapo Jinad said Chief Akinyemi's death was a great loss and rude shock to the Nigeria golfing community at large.
Comd. Dolapo said the contributions that late Captain Akinyemi had made towards the development of game of golf in Nigeria at large especially South West cannot be over emphasised in the history of the game, and would be greatly missed and remembered by all.
He said, "I am yet to believe that Chief Akinyemi is late, because he is someone that is always full of life. He called me on phone last week Monday and he spoke with me about the pending Hole 19/20 Hollers Tournament.
"Everybody in the golfing circle were still expecting Covid-19 to end and see him coming out bubbling as a cheerful philanthropist and golf enthusiast."
The Captain of Ibadan golf Club and member of Hole 19/20 Hollers, Chief Ola Ibironke who also said the death of Captain Akinyemi at this time of his age is a great loss and the last thing that any one could ever imagine, noted that the deceased was one of the most generous donours in the golfing circle.
His words, "It was like I'm still dreaming. How can a man like Captain Oluleke Akinyemi die just like that? Such a man that was full of life and highly devoted to the golfing community at large.
"Despite his relationship with different golf clubs, and being a member of many clubs in Nigeria, his contributions in all these clubs are numerous and noticeable."
Chief Ibironke however prayed God to be with the wife and Children the deceased left behind.
Also speaking in a telephone interview, a childhood friend and Chairman of Saki Golf Club, who is also a member of Hole 19/20 Holler, Chief Isaac Ishola, said the death of Chief Akinyemi was a sad and very painful, "especially at a time that he just bowed out of the service of Nigeria Custom Services after 35 years, saying his death would surely bring setback to the development of game of Golf in some parts of the country.
He assrued that late Captain Akinyemi's name shall be immortalised by the committee of friends and the Golfing community.
In their separate condolence messages, both past Lady Captains of Ibadan Golf Club and members of Hole 19/20 Hollers, Madam Grace Brawn and Mrs. Evenly Oyome, described the late Captain Akinyemi as a symbol of blissful golfer and a perfect gentleman to the core.
They said Akinyemi's death was a great loss to the Nigeria golfing circle, especially the Ladies sections, been a major sponsor of Ladies' programmes, and that he would be remembered for his kind gestures.
Also commenting on the death of Captain of Saki Golf Club, one of his closed friends – Chief Jide Sarayi and other friends who are members of Hole 19/20 Hollers, Mr. Doyin Owolabi, Mr. Jimoh Ogundare, Barr. Toney Gbegbaje, in their separate messages expressed gratitude to God for his life, most especially for the opportunity he had to serve the Federal government for good 35 years without any blemish,
The committee of friends who urged his wife to take solace in God and be strong, prayed for God's presence and protection over the deceased family.
Late Chief Oluleke Akinyemi who died at the aged of 61 years on Saturday, July 11, 2020 after a brief illness was the Captain of Saki Golf Club and former Captain of Ogbomoso Golf Club in Oyo State and Kadariko Golf Club in Niger State.
According to his wife, Mrs. Oluwafunsho Akinyemi, her late husband was very active up till Wednesday, July 8, 2020 night before he developed Malaria fever and was taken to the hospital where he later gave up the ghost.
Mrs. Akinyemi told members of Abeokuta Golf Club and Hole 19/20 Hollers of Nigeria during their condolence visit to the family at their Akute residents in Ogun State that the deceased until his death was a caring and compassionate man who was loved by everybody.
She expressed her appreciation and that of the family to the Club Captain and members for the love shown to the family.
The delegates to late Chief Aknyemi family, was led by the Captain of Abeokuta Golf Club, Mr. Kolawole Adeleye, on behalf of the Board Of Trustees, Executives and entire members, described Chief Oluleke Akinyemi as a symbol of unity and peace-loving Golfer whose legacy and impact would forever remain in the hearts of the golfing communities in Nigeria.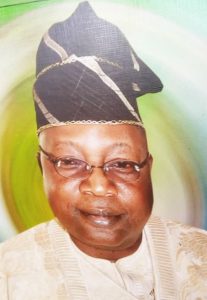 Late Chief Akinyemi until his death was also the past Captain of Kadariko Golf Club in Niger State, member of Abeokuta Golf/Sports Club, Ikeja, Ibadan and Tiger Golf Clubs, as well as Ilorin Golf Club among others.
In another development, the final burial of Late Chief Oluleke Akinyemi who died on Saturday, July 11, 2020 starts with Christian Wake-keep, between 5:00pm and 6:00pm on Thursday, July 23, 2020, at his residence – 5, Majaro Close, Off MFM Church, Purposeful Avenue, Olambe, Akute, Ogun State.
Funeral Service holds between 11:00am and 12am on Friday, July 24, 2020 at the Redeemed Christian Church of God (His Lorship Assembly Area Headquarter RCCG), 1, Ajayi Close, Off Alafia Street, Off Mountain of Fire, Purposeful Avenue, Olambe, Akute, Ogun State.
Interment follows immediately at his residence – Leke Akinyemi Crescent, Ten-Ten Purposeful Avenue, Lambe, Akute, Ogun State.