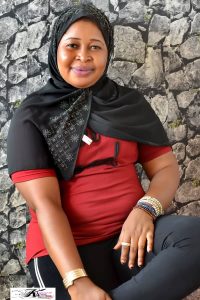 Alhaja Fadilat Yusuf Morenikeji Mopelola, fondly called Ife-Anabi and Iya Alasalatu is a budding Waka music crooner who is based in Ilaro-Yewa, headquarters of Ogun West.
The delectable Islamic gospel singer in this interview with Abiola Rufai explained how she veered into Waka music and her passion for the propagation of Islam through the music. Excerpts.
What is your academic background?
I started my primary education at Nawarudeen Primary School, Leslie Road, Ilaro , and later left the school after my primary two class to attend African Primary Schoo at Papamarun in Abeokuta as a result of my uncle who wanted me to stay with him in order to monitor my education effectively because he was a teacher.
Thereafter he was transferred from Abeokuta to Imasayi in Yewa North local government of Ogun State, and I have to follow him to Imasayi where I later completed my primary education.  After my primary education, I proceeded to Oluaso High School in Imasayi for my secondary school education. As a result of my Uncle and his wife who were devoted Muslims, I was enrolled at an evening Islamic class, normally refers to as Ile-Kewu.. Infact, my Uncle is an Alfa while his wife is a Hijab Sister.
How do yo venture into Waka music?
My hobby right from Primary School was music. I like singing a lots especially Islamic songs to the extent that whenever I heard music especially Islamic music, I would abandon every other things to listen and sing and dance to the music.
In fact, my Uncle's wife and her friends always asked me if it is music I would choose as my career.
So, after my Secondary School education, I came back to Ilaro where I met Alhaji Mumin Damilola, popularly known as Esin Ogbamilaye who encouraged and mentored me. I worked with him for some times before I later formed my own band.
Alhaji Damilola have been encouraging me till today.  I have featured in so many Islamic home videos and Ive performed at different and many events.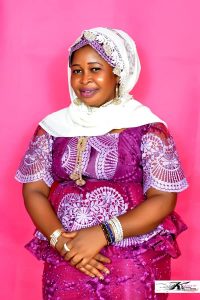 Did you inherit the music talent or you learn it from someone?
I will say No and Yes.  No, because I have the talent. I have been singing right from my childhood and I found it so easy to composed music and at the same time, very easy for me to sing.  But Yes, because no matter how talented you are on anything or vocation, you still have to practice and learn more from those that have been there before you.
I did not learn it from anywhere, but to be perfect at it, I have to move closer to those that have been there before me.
Why music and not any other career?
Wow! Music has been in me from my childhood.  I like praising Prophet Muhammed (PBUH) with my music. I don't think I can do without music and I don't think I can leave music for any other profession because music has been part of me and it remains my life.
Who amongst the Islamic singers is your role model, someone you wish to be like or emulate?
As for  me, I always like to be myself, but if I want to pick any Islamic singer that I like to emulate or be my mentor, I will pick Alhaja Afsat Sodeeq and Alhaja Aminat Amirat because of the messages that both passes out in their music.
What I enjoy most in music is the lessons that I want to gain and not really the rhythm. So, I will like to pick the two female Islamic singers if I want to emulate anyone.
Where do you want to take your musical career to?
Yes, I will love to take my Islamic music to the peak of my career and also impact positively in the life of my fans. I want my music to always correct the social menace in our society.  I want sinners to listen to my music and to also travel around the world with my music and also have positive influence in the society.
Let's talk about your home affair. Are you married?
Wow! Yes, I am married with three children, but I am not with him anymore.  I am currently single, but not desperate to remarry. All I want is God to decide for me, and I know Almighty Allah will guide and guard me righty, always.
How can people contact you for their social event?
My fans and every other person that want me to sing at their social event can contact me through my personal phone number or can also contact me through – StarTrend Int'l magazine on 08038525526.
What message do you have for your fans?
I want my fans to always pray for me to grow in this music industry and I will not also stop, or relent at praying for them too. They should continue to be peaceful and contact me for their social event and support me always.
Who is Fadilat Yusuf Morenikeji Mopelola?
Fadilat Yusuf Morenikeji Mopelola is a God-fearing and religious lady who uses her talent to preach peace and love amongst the people. I'm from Abeokuta. I did not spent much of my growing up years in Abeokuta, I spent much of mylife at Ilaro-Yewa in Yewa (Egbado) South Local government of Ogun State.  I also spent some years at Cotonou (Ajashe) because my mother is from Ajashe.