It was the end of the road for billionaire kidnap kingpin as he has been arrested in Lagos after several years of eluding the police.
The arrest of the billionaire kidnap kingpin, Chukwudi Dumeme Onuamadike, also known as Evans, came to him as a surprise and an act of God because of all the security measures and steps he took to elude the police for over seven years.
This assertion was made by the 36-year-old suspect himself when he was paraded by the Force Public Relations Officer, CSP Jimoh Moshood at the Lagos State Police Headquarters, Ikeja, on Sunday, June 11, 2017.
Evans who said he started kidnapping in 2009 after he lost N20 million to the men of the Nigeria Customs Service, was declared wanted by the police in 2013 following some high profile kidnappings from which he got billions of Naira he collected from his victims.
Evans was paraded alongside six members of his gang including Uchechukwu Amadi and his wife, Ogechi, Chukwudi Nwosu alias Skido from Abia State, Felix Chinemerem, 36, also from Abia who was the second in command, Chukwuemeka Ikenna Bosah, 28, from Anambra State and Bayelsa State born Suoyo Paul aka Nwana, 42, the gang's armourer.
Items recovered from the gang include two double barrel guns, two AK 47 rifles, 59 AK 47 magazines, two English pistols, 1, 272 bullets, improvised leg chains used in restraining their victims and five different plate numbers.
Evans who was arrested by the the Inspector-General of Police Intelligence Response Team (IRT) and men of the Lagos State Police Command led by ACP Abba Kyari, at his mansion in the Magodo Phase II GRA said to be worth over N300 million, narrated how he was able to elude the police for many years and said he operated seven different gangs with one making the actual abduction, another gang led by Amadi and his wife, keeping the victim while another gang negotiated and collected the ransom often amounting to millions of dollars.

He also said he owned another mansion in the same Magodo GRA, two houses in Accra, Ghana, where his wife and five children are based, two houses in his hometown in Nnewi, Nnewi North Local Government Area of Anambra State, exotic cars and expensive jewelry.
According to CSP Moshood, some high-profile victims of the Evans kidnap gang included one James Uduji, who was kidnapped around his house at 7th Avenue, FESTAC Town, in 2016, and held for six weeks until $1m ransom was paid, as well as one Uche Okoroafor, a trader at Alaba International Market, who spent three months in hostage until $1m was paid for his release.
Evans, a native of Nnewi in the Nnewi North Local Government Area of Anambra State, said he went into kidnapping in 2015 when his spare parts business collapsed.
He also confessed to Pulse that he can remember 10 of such high-profile kidnappings and that two of his members identified as Chinedu and Ehis, helped him to scout for wealthy targets.
"I was into importation of spare parts here in Lagos. But in 2013, Customs seized my goods worth N20 million and I became stranded. That was when I went into kidnapping.
I usually collect ransoms in dollars and the highest I got was $1m for a victim. I am also into drug trafficking. I used the proceeds from kidnapping and drug to buy property. I have a wife and five children who live in Ghana. I can't talk too much.
I can say my arrest was the handiwork of God because of all the security measures I put in place. In my house in Magodo, I have all round security complete with CCTVs that monitor anyone coming in or going out.
How the police managed to penetrate my mansion and arrest me is still a mystery. I think it was God that made it possible and it is my time.
I am sorry for all the crimes I committed. I am now a born again Christian."
The next suspect to speak was Ogechi who said her husband told her to relocate to Lagos in July 2016, adding that she only spent two weeks in the rented apartment at New Igando where the victims were kept by Amadi.
"I live in Port Harcourt with my children where I run a provision store. I didn't know that my husband was into kidnapping. He only told me he was going to Lagos to do a drug business.
For many years, he had not been sending us money and when I questioned him, he would tell me that his boss had not paid him. It was last year he sent me the sum of N600,000 to me for our children's upkeep and school fees.
He later told me to relocate to Lagos with the children and he rented apartment where we were supposed to stay. It was one Ngozi that rented the apartment in my name and she came to pick me up when I arrived in Lagos. I only spent two weeks before I went back to Port Harcourt."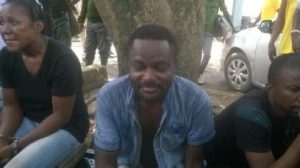 Amadi was next to speak."I was in Malaysia for over one year but I had issues with my girlfriend there and I had to come back to Nigeria.
I invested the little money I came back with in buying and selling but the business was not moving. It was in the process that I met Evans and he promised to assist me if I could work with him.
I knew him five years ago, but he never told me he was into kidnapping. He only told me he was into importing of drugs from Brazil and Venezuela to Nigeria and he promised to link me up.
It is true that I kept some of the victims in my house in New Igando and when one of the victims escaped, Evans had been threatening to kill me, my family and burn my house."
Nwana, the gang's armorer who claimed to be an ex-militant under the Federal Government Amnesty Programme, said he first met Evans in 2008 at a militants' hideout in Bayelsa State and the kingpin recently contacted him on the telephone to supply him guns.
He said Evans promised to pay him N3 million for the ammunitions and he was arrested after the police traced his telephone conversations with Evans.
"It was our conversation the police traced to arrest me. I have never been involved in the kidnapping," he added.
Chinemerem, the second in command, also spoke: "I was selling nylon in the Okota area of Lagos when Evans approached me that I should be supplying him the nylon for pure water.
But when we became close, he introduced me to selling hard drugs. Whenever I delivered the drugs to some of his customers, he would pay me.
It was in 2015 that he opened up to me that he was into kidnapping and made me his second in command. I controlled his seven gangs across the country and reported back to him. I was tracked to Anambra State."
Bosah said Evans met him in Ghana where he was selling clothes and was introduced to kidnapping.
Bosah confessed that he only participated in the abduction of a pharmacist, who escaped from their den in Igando, adding that he had not been given any share before he was arrested.
While briefing the press, the FPPRO, CSP Moshood said preliminary investigations revealed that Evans was involved in cross-border crime and was responsible for abductions in Lagos, Edo, Delta, Ogun, Osun, Ondo and Rivers States in Nigeria as well as in Ghana and other West African countries.
CSP Moshood said the police in collaboration with the Interpol successfully unraveled the many atrocities he had committed in within and outside the country.
"The force will build on this success and continue to prevent kidnap cases and criminality in the country.
During interrogation and preliminary investigation, Evans and his gangs confessed to all kidnappings linked to them.

He received $1m each from four victims and is the vicious leader of a highly organized kidnap-for-ransom syndicate responsible for kidnapping of prominent Nigerians in the Western, Eastern, Southern and Northern states."
Evans who was described as a very vicious and brutal kidnapper by the police was said to have once refused to release a victim even after paying a ransom of $1m because the man's relatives were rude to him and demanded another $1m before the victim could be released.