LAGOS – Yewa Metropolitan Club, Ilaro has described the death of Gen. Adetunji Idowu Olurin (rtd) as an unexpected, painful and a great loss, not only to the club the deceased was a founding member, but to his family, Yewaland, Ogun State and Nigeria as a whole.
In a condolence letter presented by the Secretary of the club, Alhaji Sijuwade Idowu and read by Elhadj AbuSatar Idowu Hamed, Asst. President of the club, the group said, "We will miss our brother, friend and a gallant soldier, and we will cherish all the happy memories we had with him."
"We were very stunned to learn about the death of your husband, our brother, friend and a founding member of our great club, Gen. (Metro.) Adetunji Idowu Olurin (rtd). We still cannot believe that he died so unexpectedly.
"We loved him and will miss him, but as they say, "the one who is adored the most by God, is the one who achieves eternal life.
"We pray for peace and comfort to you and your children at this difficult time and offer our condolences to you all. His gentle soul shall always be in our hearts."
Metro Club also prayed that, "May his gentle soul rest in perfect peace, and God gives you, children and entire family the fortitude to bear the irreparable loss."
Responding, the widow of the deceased, Mrs. Kehinde Olurin thanked members of Yewa Metropolitan Club, Ilaro for their kindness and spirit of oneness by sharing from the family's sad moment.
She noted that the idea of burying her husband in Lagos and not Ilaro as expected by the people of Yewaland was not her own decision and neither that of the children, but was followed according to the document (Will) left behind by the deceased.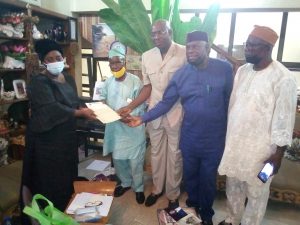 Mrs. Olurin however called on the group to always remember her, children and the entire family in their prayers, before, during and after the burial, saying the death of her husband is very painful and people should support them in given the deceased a befitting burial.
It would be recalled that the group which on Friday, September 10, 2021 paid a condolence visit to the family of the late Gen. Adetunji Olurin at their Park View, Ikoyi, Lagos residence was led by Alhaji Idowu, one of the founding members of the club, Mr. Kolawole Abiodun, Mr. Alabi Sangotumo and Elhadj AbuSatar Idowu Hamed.