It's no longer news that the celebrated and legendary Nigerian singer, songwriter and guitarist, Majekodunmi Fasheke, fondly known as Majek Fashek, died on Monday, June 1, 2020, but theres a woman behind his success in the industry.
According to people in the know, Rita was once the aura in the singer's life before his death, but Rita has four beautiful children for the "RainMaker crooner divorced him in 2005 as a result of the downturn in the life of Majek Fashek.
It was scooped that Rita once said Majek was the best husband before the addiction set in, but she couldn't wait any longer for him to come back, so the divorced is inevitable.
Rita, it was also gathered inspired Majek Fashek in writing some songs without which were hits back in the days.
Majek Fashek's death was announced on Tuesday, June 2, 2020 by his longtime Manager, Umenka Uzoma Day. The "Send Down the Rain" crooner, aged 57 died in a hospital in New York
Fashek has been plagued by a mysterious illness for years now which affected his music career greatly.
Majek Fashek was one of the biggest music exports from this part of the world in the late 1980s and the early 1990s.
However, things took a different turn as he went on a self-exile which according to reports were because of failing health and personal issues.
A few years ago, he bounced back into the music scene again and became a regular at selected shows.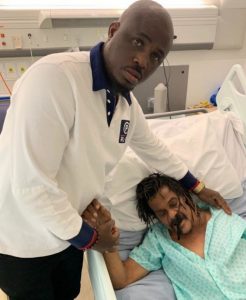 Born Majekodunmi Fasheke, the African reggae star Majek Fashek attracted international attention, in 1987, when his self-penned tune, "Send Down The Rain," seemed to coax a rain storm that ended one of the worst draughts in Nigeria' s history.
Labled a "Prophet", Majek Fashek went on to become one of Africa's greatest reggae-influenced performers. His debut solo album, Prisoner Of Conscience, released in 1988, sold more than 200,000 copies in Nigeria alone.
Born in Benin City to an Edo mother and a Ijesha father, but identifies with his Benin City root, Majek Fashek inherited his love of music from his mother, an Edo woman who raised him following the death of his father when he was eleven years old.