By Raymond Osho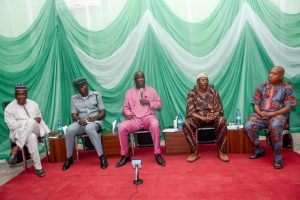 ABEOKUTA: Media practitioners, the Nigerian Customs Service (NSC) and others on Thursday November 21, 2019, disagreed on whether the Federal Government's decision to close the country's borders against its neighbours was right or not.
The discussants made the expression at a forum organised by the Consolidated Chapel of the Nigeria Union of Journalists, Ogun State Chapter as part of the activities to mark this years World Television Day.
Among the discussants were a veteran journalist, Eddy Aina, Dapo Oke, a community leader at the Nigeria-Republic of Benin border, Abdullahi Maiwada, spokesman of the Ogun State Command of the Nigeria Customs Service (NCS) and Sunday Olaposi Oginni, Secretary of the State Chapter of the Labour Party (LP).
Out of the four discussants, two of them supported the government's action while the other two spoke against it.
While Aina and Maiwada agreed that Nigeria "cannot continue to be a big brother of Africa while we continue to suffer", Oginni argued that the policy was not thought through, because "it is Anti-people policy which has increased the suffering of the masses."
In Eddy Aina view, the border ought to have closed much earlier for the benefit of the country.
He cited India who took a firm decision to ban importation of textiles at a certain period, "And now that they are the largest exporter of textiles in the world."
Their argument was on the topic "Border Closure: Gains and Pains".
For Oginni, the "suffering" the closure had brought to the ordinary Nigerian has wiped out any benefit the country has derived from it."
Oginni stated, "The closure is anti-people, it ought to have been discussed extensively with the people before the final decision is taken."
He added, "It (closure) is anti-people, that is why the government did not implement it before the general elections. The policy is bad, our (Nigeria) problem is bad leadership, bad policies and bad implementation."
The Customs spokesman Maiwada insisted that the decision is in order as it had immensely benefitted the country in terms of revenue generation, among others.
He argued that no country can eradicate smuggling completely "It can only be suppressed".
The community leader, Capo Oke ascribed the rampant smuggling in the border areas to the government's neglect of the border communities.
He also cited mass unemployment in these areas as another factor.
The Chairman of the Consolidated Chapel, Akeem Olowe had earlier in his speech said, "As journalists, we see it as our responsibility to bring people with different opinion to come together to discuss the matter and possibly suggest solution for the Federal government on how to handle the situation at hand."
Olowe was of the view that creating such platform for different individuals to exchange ideas and bear their minds, "We are also contributing our quota to the development of the nation."