UYO, AKWA IBOM – Book signing and launching ceremony of the book 'Clawed to Death' comes up on Saturday, June 26, 2021 at the Conference Hall, Watbridge Hotel, IBB Way, Uyo, Akwa Ibom State at 4pm.
Maadiah who turned 16 last May 2021 had her first book "Clawed To Death" published on Amazon.
"Clawed To Death" was created in Maadiah's unbelievable imagination as a 10 year-old girl.
Acording to Maadiah, 'I gathered paper, glued them perfectly together to form a small book, and then I designed a unique front cover with the fearsome but analytical title above'.
"I started writing and the ink kept flowing while my mind kept stringing layers upon layers of words and sentences together. It took three days to finish what my mind had canvassed'.
"Back at school, I was not hesitant to show my classmates what I had done. They were amused at what seemed like a pirated story, but if pirated means an original idea reproduced on the bearer's mind for endless days and night, then I would agree, it had been pirated.
"I kept writing, creating a mental world of bliss that friends could travel to just by weaving through my beautiful word play. Their amusement was a major inspiration; It gave a great sense of satisfaction and pleasure.
"Then one day, I stopped. I stopped and thought: these were kids like me, what about the older population? Would they find stories of wolves and myths as interesting at their level? Were my infantile imaginations going to be controversial? Did the African society have room to accommodate science fiction literature like mine?
"I had to pull back in loss of motivation to go a step further. I piled my works and stashed them in a box in the distant corners of my mind and the house – I stopped writing.
"Another 'child's play' sadly ended.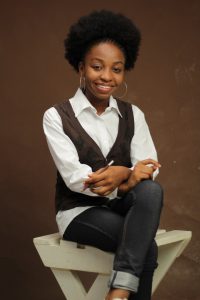 "5 years later, during routine home cleaning on a torrid afternoon, I stumbled on a familiar disorderly heap of abandoned books in a box. I smiled: memories of my conjured reality were refreshed. I immediately got back to work!
"Thinking, writing, editing, cancelling and writing again, chewing the back end of my pen, I refined those thoughts. It was the Covid-19 lockdown and I had enough time to recreate.
"Word after word, line by line, I slowly, but consistently cut through the sentence structures until, phew! I heaved in satisfaction.
"After hours and days of dictionary usage, sleepless nights and laborious days way beyond what a 10 year-old should endure, "Clawed To Death" was born.
"I dedicate this book to the girl-child in particular, and to everyone who ever faced discouragement, redundancy and fear – essentially all of us.
Maadiah in her growing up years, have always loved creative think-through solutions.
Hear her, "I remember spending countless hours watching shows on artistry, literary works and showmanship, basically anything that got my mind to explore.
"I have always painted this perfect picture of a world where innovations are made mostly by the younger minds and opportunities given to the youths or children to exchange those talents and values with the world.
"Every human should at least give back one thing to society, for development or value. A flick on social media handles to monetize or that viva local life is it solving world problems? Are other individuals gaining from it?
"My aims and objectives with this project "Raise Them Queens" is to bring the right value of the girl child to the fore, by creating a sensitization programme for the government and parents to appreciate the need to raise female children as queens.
"In every developed society the inputs of women are pivotal to development. In fact by nature a woman was made a solution. A girl child must not be treated unequally, a girl child can not be rudely dealt with, a girl child cannot be bullied, cannot be raped, cannot be seen as body part merchandise. Women should be respected and accepted if our society must be fixed."
According to Maadiah, her mission includes:
1. Raise a network of young women to mobilize across Africa and raise an army of confident Queens.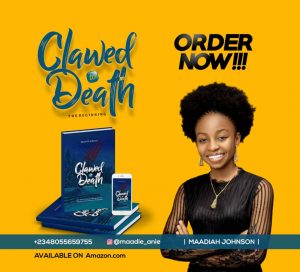 2. Visit schools in Nigeria to indoctrinate the girl child on the right values and self-dignity necessary to impact society.
3. Visit social groupings, schools, communities, religious communities to help them appreciate the values of our young women.
She intends to publish 3 more books before the end of first quarter in 2022. They are: Diary of the Nigerian Girl, Holding Hands and Love At First Words.
Find her social media platforms on
linktr.ee/maadieanie