ADO-ODO/OTA: The Association of Master Bakers and Caterers of Nigeria, has delivered a bus, loaded with loaves of bread, to the management of Ado-Odo/Ota Local Government, at the LG Secretariat, to help the poor and needy, during this lockdown period.
According to a press release e-signed and made available to StarTrend Int'l magazine & www.startrendinternational.com by Yinka Ademoye, Information Officer, Ado-odo Ota LG., the Chairman, Transition Committee of Ado-odo/Ota Local Government, Hon. Adewale Wasiu Lawal, who received the loaves of bread, on behalf of the people, appreciated the Association for their timely gesture to the people, at the grassroots.
Hon. Lawal stated: "it is in the nature of the Association to support the government. They have always been there for the Local Government, and today they have proven to us that they have not deserted us in this hour of need".
He explained further, "Most of our people rely on daily commercial activities to cater for their families, and that has been stopped, out of necessity, because of COVID- 19 pandemic. Things were hard before the outbreak so, having the outbreak, evidently, makes things harder for the people. We all just have to come together to do whatever we can to relief our people from the hardship".
Hon.Lawal emphasised that as a Government, his administration would not relent, until they got relief materials to every home in the Local Government Area, adding that the distribution of the materials would not only focus on senior citizens, but also to every needy and vulnerable people, in the LG area.
The Association, while presenting the loaves of bread to the Chairman of the Transition Committee, stressed that the donation was the widow's might from them, in other to give succour to the people, on the hardship caused by the lockdown directive of President Muhammadu Buhari, in other to stop the spread of the Corona virus.
Hon. Lawal, therefore. enjoined the people to obey the stay at home directive, follow COVID-19 preventive measures, by washing their hands with soap and running water regularly, maintaining social distancing,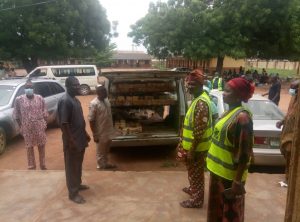 avoid large crowd and report any symptom of the virus, like dry coughing, sneezing and sudden illness to the nearest hospital or isolation centre.
As a perishable food item, the LG Chairman, immediately devised the strategies for the distribution, among the indigent, downtrodden and the poorest of the poor, as earlier directed by the Ogun State Governor, Prince Dapo Abiodun, through the various LG stakeholders, like the Community Development Associations, Baales, Community leaders, etc, in an house to house direct distribution to the vulnerable residents, in the Local Government Area.