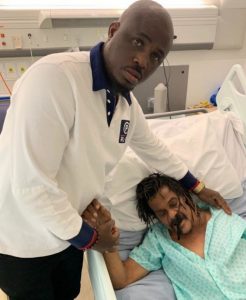 The celebrated and legendary Nigerian singer, songwriter and guitarist, Majekodunmi Fasheke, fondly known as Majek Fashek, has passed on Monday, June 1, 2020.
His death was announced on Tuesday, June 2, 2020 by his longtime Manager, Umenka Uzoma. The "Send Down the Rain" crooner, aged 57 died in a hospital in New York
Fashek has been plagued by a mysterious illness for years now which affected his music career greatly.
Majek Fashek was one of the biggest music exports from this part of the world in the late 1980s and the early 1990s.
However, things took a different turn as he went on a self-exile which according to reports were because of failing health and personal issues.
A few years ago, he bounced back into the music scene again and became a regular at selected shows.
Born Majekodunmi Fasheke, the African reggae star Majek Fashek attracted international attention, in 1987, when his self-penned tune, "Send Down The Rain," seemed to coax a rain storm that ended one of the worst draughts in Nigeria' s history.
Labled a "Prophet", Majek Fashek went on to become one of Africa's greatest reggae-influenced performers. His debut solo album, Prisoner Of Conscience, released in 1988, sold more than 200,000 copies in Nigeria alone.
Born in Benin City to an Edo mother and a Ijesha father, but identifies with his Benin City root, Majek Fashek inherited his love of music from his mother, an Edo woman who raised him following the death of his father when he was eleven years old.
Recall, a businesswoman, who supplied concrete to road contractors inspired him through her participation in traditional religious ceremonies where the Olokun rhythms were used to accompany worship of the river goddess. As a youngster, Fashek played maracas during the ceremonies.
While he developed an early interest in the music of Jamaica, Majek Fashek was equally drawn to the music of Indian cinema. Learning to play guitar while in secondary school, Fashek joined a band, Jah Stix, and began playing in clubs in the capitol city of Lagos.
Majek Fashek, whose name means "Power of Miracles, the high priest does not live", had a very close involvement with the late Nigerian drummer and bandleader Fela Anikulapo Kuti.
In the early 80s, Fashek who at the time went by the stage name Rajesh Kanal, joined the group Jastix with McRoy Gregg, and Drummer Black 'Rice. They were best known as the in-house band on the show – Music Panorama on NTA Benin, and toured with fellow reggae group, The Mandators.
In 1988, shortly after Jastix disbanded Fashek, who now used the name Majek Fashek, signed with Tabansi Records and began a solo career by releasing the album Prisoner of Conscience and quickly became Nigeria's top reggae artist after the song "Send Down The Rain" became the most popular song of the year, and in 1989 he won six PMAN awards for "Song of the Year", "Album of the Year", and "Reggae Artiste of the Year" among others.
Fashek was married to Rita Fashek who inspired the song "Without You"; the couple had four children together, but have since divorced. In 2015, it was revealed that Fashek was bankrupt and battling drug addiction. After admitting that he needed help, he was admitted into a drug rehabilitation centre in Abuja, but has since recovered, and returned to music.
Besides his struggle with drug addiction, other health conditions required his hospitalization on several occasions. He was rumored dead in September 2019, but his manager quelled the rumours, confirming that Majek had indeed been critically ill, hospitalized at the Queen Elizabeth
Hospital, Woolwich, England, and in dire need of financial assistance
The 'Rain Maker' as he is fondly called has worked with various artistes worldwide including Tracy Chapman, Jimmy Cliff, Michael Jackson, Snoop Dogg, and Beyoncé.
Majek's life and work are still prominently celebrated by Nigerian music fans and beyond. His legacy of excellence in music and worldwide impact through instrumentation will live imminently.
Majek Fashek songs include Without You, Sugar Daddy & Sugar Mommy, Sodom & Gomorrah, Religion na politics, Mother, Majek Fashek – Ina New York, Leave Us Alone, Jah People, I Come From The Ghetto, I Can't Give Up The Fight, I & I Experience, Holy Spirit, Beware, Man Of Sorrow, Colors Of Satan: ft Olusegun Benjamin Franklin, African Unity, So Long, I'm Not Tired, Love and Affection, Send Down The Rain, Kpangolo and Hotel California.