The death has been announced of Mallam Abba Kyari (OON), Nigerian politician who served as a Chief of Staff to President Muhammadu Buhari who died in a Lagos hospital on Friday, April 17, 2020, from complications related to COVID-19 . According to a Mr. Femi Adesina, the Special Adviser on Media and Publicity to President Muhammadu Buhari, who announced the death via his twitter account – "Chief of Staff to the President, Mallam Abba Kyari, passes on. May God rest his soul. Amen. Funeral arrangement to be announced soon."
Although Kyari and the government did not disclose the hospital where he received treatment, but was scooped that he was treated at First Cardiology Consultant (FCC), a highly-sought-after private health facility located in Ikoyi, Lagos.
The perceived secrecy surrounding the management of Kyari's medical condition further heightened the agitation by Nigerians for information on the whereabouts of arguably Nigeria's most powerful presidential aide. Some Nigerians on social media even speculated that he was flown abroad.
Not many people knew that Kyari had been battling underlying ailment, which required him to seek care regularly in London and Nigeria. It was also gathered that, "The odds were indeed stacked against him. The pre-existing ailments and his age gave him very remote chance of survival,"
Kyari is believed to have contracted the coronavirus during his official trip to Berlin, the German capital, alongside officials of the Power Ministry for meetings with Siemens AG senior executives in the second week of March 2020.
It was learnt that Kyari on that trip also met privately with German Chancellor, Angela Merkel who was later in self-isolate over fears that her doctor, who contracted the virus, may have infected her.
A few days after his return to Nigeria, Kyari, who did not self-isolate for two weeks as required by the guidelines of the Nigeria Center for Disease Control (NCDC), started showing symptoms of coronavirus and was severely coughing in high profile meetings including meetings that had President Buhari and Vice President Yemi Osinbajo in attendance, but Buhari and Osinbajo fortunately tested negative.
On March 24, 2020, it was made public that Kyari tested positive for COVID-19 on March 23, following an official trip to Germany nine days before.
Kyari on March 29 formally confirmed he had contracted the disease in a personal statement to the public. – "I am writing to let you know that on medical advice, I will transfer to Lagos later today for additional tests and observation.
"This is a precautionary measure: I feel well, but last week, I tested positive for coronavirus, the pandemic that is sweeping the world. I have followed all the protocols government has announced to self-isolate and quarantine. I hope to be back on my desk soon."
Sadly, Mallam Abba Kyari will never return to his desk at the seat of power nor to his family. Kyari is so far the only high profile death from coronavirus in Nigeria.
Until his demise Kyari was the most influential and powerful appointee in President Muhammadu Buhari's cabinet.
As Chief of Staff to the President, he wielded so much power and of course earned a lot of enemies and was regularly vilified privately and openly.
After Buhari won reelection in 2019 he made Kyari his gatekeeper and ordered his Ministers to pass their requests through him. He thus unarguably became one of the most vilified officials in the Buhari administration alongside the president himself.
There is limited information on the birthday year and date of Kyari, a Kanuri from Borno State. But he is however believed to have died in his 70s. Abba Kyari earned a Bachelor's Degree in Sociology from the University of Warwick in 1980 and also earned another Bachelors Degree in Law from the University of Cambridge. He was called to the Nigerian Bar in 1983. He got his Masters Degree in Law from the University of Cambridge in 1984..
He later attended the International Institute for Management Development in Lausanne, Switzerland and participated in the Programme for Management Development at the Harvard Business School, in 1992 and 1994, respectively. Kyari worked for the law firm Fani-Kayode and Sowemimo for some time after his return to Nigeria. From 1988 to 1990.
He was Editor with the New Africa Holdings Limited Kaduna. In 1990, he served as a Commissioner for Forestry and Animal Resources in Borno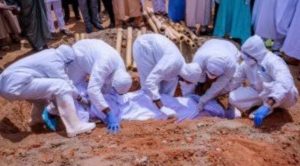 State. From 1990 to 1995, Kyari was the Secretary to the board of African International Bank Limited, a subsidiary of Bank of Credit and Commerce International. Kyari was an Executive Director in charge of management services at the United Bank for Africa, and was later appointed the Chief Executive Officer.
In 2002, he was appointed a Board Director of Unilever Nigeria, and later served on the board of Exxon Mobil Nigeria. In August 2015, Kyari was appointed Chief of Staff to President Muhammadu Buhari.
Kyari was an influential figure within the Buhari administration. During the administration's first term, he worked mainly behind the scenes to implement the president's agenda.
In 2019 with Buhari's re-election for a second term, he ordered his cabinet to channel all requests through Kyari's office. Further enhancing his influence within government circles, and being labeled as the de facto head of government. In 2017, following a leaked memo, Kyari became embroiled in a public argument with the Head of Civil Service, who was later removed from office and arrested.
In 2020, in another leaked memo, Babagana Monguno the National Security Adviser accused Kyari of meddling in matters of national security.
Mallam Abba Kyari was married to Kulu, the sister-in-law of Ibrahim Tahir, and had four children. May his gentle soul rest in peace and Allah grant him Aljanat fridaus.
His remains was buried according to Muslim rites on Saturday, April 18, 2020 at Gudu burial ground, Abuja, FCT.