BY ABIOLA RUFAI
The founders of the Afolabi Olabimtan Foundation, Adeolu and Olaolu Olabimtan who were also the children of the Late Senator (Professor) Afolabi Olabimtan have pointed out that development of Yewaland through education would be enough to motivate their foundation and spur them to continue to assist brilliant, indigent students through their yearly scholarship award.
The elder brother of the duo, Mr. Adeolu Olambitan stated this while speaking with SraeTrend Itnt'l magazine and www.startrendinternational.com at the 2017 Afolabi Olabimtan Scholarship Awards Ceremony held to discover and encourage brilliant students in Ilaro.
He said that foundation which was established over 10years ago has been given scholarship awards to students across Yewaland, most especially students in primary and secondary schools and was planning to extend it to tertiary institution of learnings.

Mr. Adeolu Olambitan who described the event which took place on Friday October 27, 2017 at the Table-Tennis Hall of the Recreation Club, Ilaro, headquarters of Ogun West was a success, stated further that scope of the event has increased, adding that the turn-out of people at the award most especially from Olabisi Onabanjo University (OOU), primary and secondary school students across Yewaland was impressive and that ''it is an indication that the scholarship programme was effective and contributing positively to the education development of Yewaland.''
On his own, Mr. Olaolu Olabimtan who is a member of the Board of the Olabisi Onabanjo University (OOU) pointed out that he was one of those that enjoyed free education during his school days from the government, saying; ''there is the need for people to support government as government alone cannot shoulder the responsibility of educating the entire citizens; hence, the need for the establishment of the foundation and a way of contributing to the development of educational system of the region.''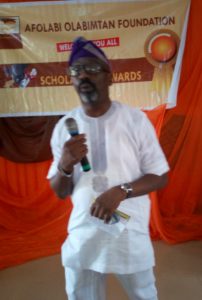 Corroborating his elder brother's view, Olaolu said, "I can tell you, we have people that we have sponsored up to the tertiary level, but majorly we currently concentrate on primary and secondary schools and with God we will take the programme fully to the tertiary institutions.
The Accountant cum politician stated that he was in politics not because he wants to sustain his father's legacy in politics, but because he want to serve his people pointing out that; ''politics is all about contributing to the development of the nation and service to humanity.''
He urged the beneficiaries of the scholarship awards to remain focus and face their studies seriously, while advising indigenes of Yewaland to come together and speak with one voice toward realizing their dream of winning the 2019 governorship race in Ogun State.