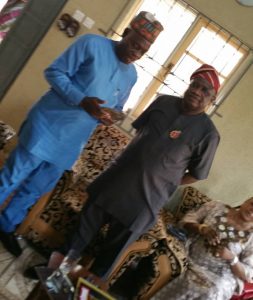 ILARO-YEWA – Hon. Kolawole Lawal Mobolorunduro, the honourable representing  Yewa South/Ipokia Federal Constituency at the National Assembly has commended Elhadj AbuSatar Idowu Hamed, the Publisher/Editor-in-Chief, StarTrend Int'l Magazine and online www.startrendinternational.com for his resilience and commitment towards promoting the ideals of Yewaland and Ogun State as whole.
KLM as he is fondly called stated this recently in response to the StarTrend Gold Award of Excellence presented to him by AbuSatar Hamed at a brief ceremony at Ilaro-Yewa, Ogun State.
The Adele Olu of Oke-Odan noted that he's so impressed by the award and grateful to the organisation for the honour, saying, "I'm very happy and proud to receive the StarTrend Gold Award of Excellence, being the first time I will be awarded a Gold Award."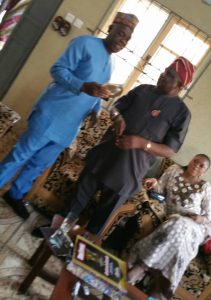 He promised to continue to support journalists in their quest to inform, educate and entertain the public, adding as the fourth estate of the realm journalists must work very hard to stop the new trend of fake news in the society.
Hon. Lawal noted that the journalism profession is a reputable career that its role was enshrined in the Nigerian constitution, "the reason why practitioners must protect the integrity of the profession by removing fake journalists in the industry."
KLM however noted that he's proud of Nigerian journalists for their 24/7 reportage of events as it breaks around the world.
The lawmaker was presented with the StarTrend Gold Award of Excellence in recognition of his immense contributions to the socio-economic development of Nigeria, especially in the country's democracy and youth empowerment.