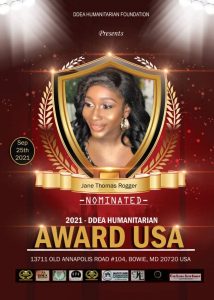 USA – Jane Thomas-Rogers was recently nominated for a US-based humanitarian award – DDEA Humanitarian Award. The award night is set to take place in USA, on September 25, 2021.
The event is known for celebrating outstanding individuals from different parts of the world who are involved in touching lives positively.
Jane Rogers, who is a Nigerian actress and filmmaker, is also known for her advocacy for better society and her efficacy at humanitarian services.
According to the organisers, Jane has been nominated for her active advocacy for the less-privileged and providing for internally displaced people in the IDP camps in Nigeria, especially in Kaduna State.