By Raymomd Osho
ABEOKUTA – To mark the 2020 International World HIV/AID Day, a group of youths in Ogun State, under the umbrella of Erudite Youth Initiative on Tuesday, December 1, 2020, organised a walk in Abeokuta, the state capital to sensitise citizens towards reduction in the spread of the virus.
The walk, according to the Chairman of the Initiative, Oliyide Oluwadamilare, was aimed at educating people on how to prevent the spread of HIV/AIDs in the state.
The campaign which kick-started at the popular Itoku Market in Abeokuta terminated at the Secretariat of the Abeokuta South Local Government in Ake.
Oliyide disclosed that the group consisted of students from different tertiary institutions across the state with sole aim of supporting the state government in the fight against the deadly virus.
His words, "We are young minds from different school across all department in the state and we came up with this initiative, and the only way we can do it better is to join hands together to stop the spreads of HIV/AIDs, by educating people to take heed to precautions put in place so, we can have a world free HIV/AIDS.
During the campaign, the group distributted contraceptives to market men and women, including pedestrians while educating them on how to prevent the spread of HIV/AIDs.
The General Secretariat of the Abeokuta South Local Government, Hon. Adebayo Nurudeen, commended the youth on bold movement taken by them, to educate people of the state, and to reorientate the people that having HIV/AIDs is not a death sentence.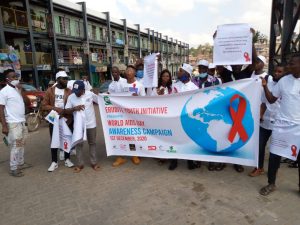 Nurudeen advocated for love for those living with HIV and AIDS, adding one of the ways to end the spread is to show love for those living with the virus.
In his words, "We should embrace those living with the virus and show them love, with this, we will put an end to spread of HIV/AIDS. Abeokuta South will always welcome good idea of such from youth."
He added, "HIV/AIDs has been bedevelling the whole world long time ago and the only way we can prevent it is by abiding with the precautions and methods put in place, and share love not virus. People should take caution, by using contraceptives during sex and avoid sharing of sharp objects. Prevetion is better cure AID is real."