By Sodeinde Kolawole
ABEOKUTA: Ogun State First Lady,  Mrs.Bamidele Abiodun has supported the widows at Abeokuta South Local Government (ASLG) with food items, household materials and the Chairman, Transition Committee ASLG, Hon. Ayodeji Michael Shomide celebrated with them
According to a release e-signed and made available to StarTrend Int'l magazine & www.startrendinternational.com by Sodeinde Kolawole, Information Officer, ASLG, Mrs. Bamidele Abiodun who was ably represented by the representative of Chairperson and Commissioner of Woman Affairs, Mrs. Erelu Usman Modupe gladdened their hearts by her expressions, exciting the widows at the event, saying that they are not alone.
She told them that, it is absolutely true that women shoulder much of the burden at home, following school and child care facilities saying it is God/Allah who can be the father of widows, and that all widows should repose on God/Allah for He is the one that can bear the burden of humankind.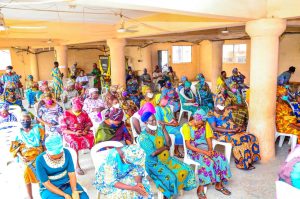 The First Lady who stated that the food items and household materials were just succours of recognition, added that government is not forgetting the widows in the society while she reaffirmed that government will be unrelented in its quest to support the widows and their children.
Hon. Shomide thanked the gestures of Mrs.Abiodun for supporting the widows at ASLG while urging the widows in the council area not to give up; saying being widows do not mean that is the end of life.
He posited that this is the reason why government is always on their feet to assist them at any point of their challenges.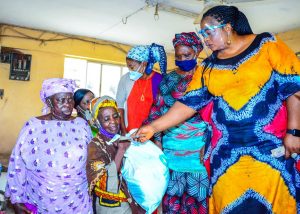 Present at the occasion were the former First Female Member, House of Representative in ASLG, Hon. Mrs. Abiola, Director General, Dapo Abiodun Campaign Team, Mrs. Femi Ilori, former Speaker, Ogun State House of Assembly, RT.Hon. Titi Oseni Gomez and all Transition Committee Members of ASLG.