PORT-HARCOURT – Nigeria's Minister of Information, Alhaji Lai Muhammed has called on Journalists in the country to take responsibility for news materials they push to the society.
The Minister gave the charge while speaking at the 3rd Nigeria Union of Journalists National Conference holding in Port Harcourt, River State.
Alhaji Muhammed, represented by the Director, NTA, Port-Harcourt Centre, Mrs. Bosede Adebayo, urged journalists to always consider the implications of the news materials being published, noting that journalists have the roles to ensure peaceful society.
He commended the Nigeria Union of Journalists for putting together a conference to reawaken their members on their responsibilities to the society.
Governor of Abia State, Dr. Okezie Ikpeazu in a keynote address said the current situation requires serious assessment, adding that the security challenges was due to the inaction of the state actors to deal decisively with criminalities at infancy stage.
He highlighted intellectual laziness and wrong diagnosis of problems as part of the problem causes and called on the media to dig deep into the root of problems rather than the usual chorus of the problems.
Ikpeazu advised that the media to desist from labelling and tagging of criminals and their activities urging them to stop reportage to escalation of the charade.
He noted that the media should focus less on negativity, urging them to also expose social injustice among other vices for the development of the nation.
The National President of the NUJ, Chief Chris Isiguzo while speaking said the theme was chosen because of the pivotal role of the media in stabilising the polity.
He stated that communication process was very influential in bringing peace to the nation.
The NUJ President further stated that NUJ was convinced that issue of banditry and terrorism require collective discussion on means of stopping the trend.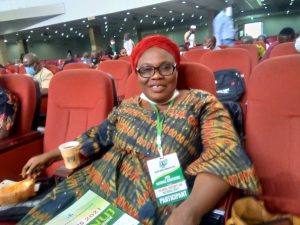 Chief Isiguzo while speaking on the recent ban placed on the use of twitter by the Federal government called on the government to reverse it's decision in the spirit of democracy.
The Chairman on the occasion, the former President of Nigeria Bar Association, Mr. Onueze Okocha said journalism was in a vantage position to salvage the nation urging the media to live up to its responsibility of protecting the nation from falling.
Okocha who also Senior Advocate of Nigeria reiterated the rights of Nigerians to free speech and association.
The conference with the theme: "The Media, Insecurity and National Unity" is being attended by six delegates from each of the 36 State Councils of NUJ, including the Chairmen and Secretaries and the national executive Council of NUJ.
Ogun State delegation was led by the Chairman of the Caretaker Committee, Mrs. Omolola Adeyinka.