By AbuSatar Hamed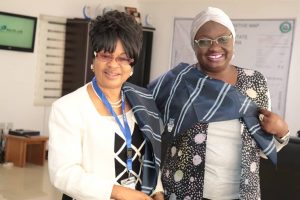 ABEOKUTA: A call has gone to Old Students Associations in Nigeria and in Diaspora, to support Ogun State Government in its mission to revamp the State's educational sector, in order to take its rightful place in the nation's education system.
According to a press release e-signed and made available to StarTrend Int'l magazine & www.startrendinternational.com by Oluwaseun Boye, Media Officer to the Deputy Governor, Engr. Noimot Salako-Oyedele, made the call while receiving the National Executive members of Queens School, Ede and Ibadan Old Girls Association (QSOGA), who were on a courtesy visit to her office at Oke-Mosan, Abeokuta.
Salako-Oyedele said government alone cannot shoulder the responsibilities of education, hence the need for Old Students Associations to join hands to bring back the lost glory of the education sector in the State.
Her words, "Prince Dapo Abiodun led administration has done a lot in changing the face of the State's education sector, through provision of infrastructural amenities, employment and capacity building for teachers and provision of teaching and learning tools to schools in the State but a lot still need to be done.
"This administration is committed to the education sector and that is why we are working together with Old Students Associations, religious bodies and Non-Governmental Organisations, to support the 'Building Our Future Together' agenda of the State Government", she said.
Engr. Salako-Oyedele commended the Association for their efforts towards giving back to their Alma Mater, urging them to brace up by engaging in more Corporate Social Responsibilities, especially in the education sector.
Earlier in her address, the National President of QSOGA, Dr. Taiwo Adamson, pointed out that the Deputy Governor's high sense of
responsibility, tenacity for trustworthiness and passion to serve, were for the discipline instilled in her as a product of Queen's College.
She added that the Association was embarking on a project to erect a befitting memorial building, as a legacy in honour of late Dr. Stella Adadevoh, an alumnus of the school, who died in her fight to curb the spread of Ebola virus in Nigeria in 2014.