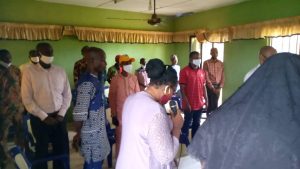 IMEKO AFON: The Chairman of Imeko-Afon Local Government Transition Committee, Hon. Olusola Oke, has revealed the 4-Cardinal Programs of his administration as, Rural roads & agriculture, Rural & urban electrification, Education support & Health for ALL, with outpouring of encomiums on the Chairman and members of his Transition Committee, by segment of the LG stakeholders.
According to a press release e-signed by and made available to StarTrend Int'l magazine & www.startrendinternational.com by Ladipo Lolade Peculiar, Information Officer, Imeko Afon Local Government, Hon. Oke disclosed the 4-cardinal programs and equally received the commendations, during a media parley/get together, organised by the Local Government, for the indigenous media outfits/practitioners, operating within the local area, where he further expanciated on the mode of operation and the projects so far being embarked upon by his administration, despite the paucity of funds.
The Local Government Boss, further disclosed to the pressmen, and the people present, that grading and rehabilitation of roads, in the Local Government Area, were evenly executed, in all the three LG zones of Imeko, Afon and Ilara, with a minimum of five completed road projects, within the five months of the LG Transition Committee existence, from January, 2020.
Hon. Olusola, however, seized the occasion to promise all the people, living in the LG area, that his administration would sink a minimum of three boreholes across the three zones, with the assurance of facilitating the connection to the Power Grid of the new transformers, donated by the Communities and Well-meaning indigenes, for the benefit of the masses.
In swift reactions, to the Chairman's record of performances, shower of blessings & praises were poured on the Chairman & members of the Transition Committee, by the representatives of Imeko-Afon Frontliners,
The Ambassadors, National Youth Council of Nigeria, Concerned Educators' Forum, Imeko-Afon Education Rescue Team, and the Patriots of Imeko-Afon, for good delivery of dividends of democracy to the grassroots, by the Hon. Oke led administration in Imeko-Afon LG.