By AbuSatar Hamed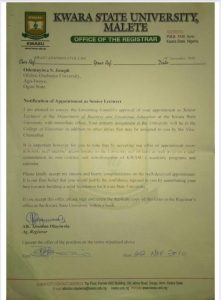 ABEOKUTA: Professor Joseph Sunday Odemuyiwa has denied ever sacked from any of the universities he had worked as a result of forged certificates.
Professor Odemuyiwa statedthis in a release made available to journalists on Monday, January 20, 2020, saying, "The publication of the Sahara Reporters on the subject matter concerning my person came as a rude shock, but not strange in a political setting where one's principal is a target of ridicule by strong opposing camp within.
"My story with all the universities where I was opportuned to serve in Nigeria was like a call to Macedonia. The story of my sojourn in Kwara state university started with a chat I had with the then Vice Chancellor that delivered an address at my Association's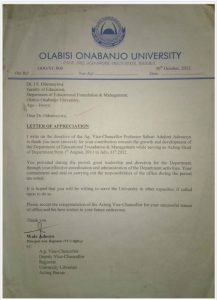 Conference held then at the Federal College of Education, Abeokuta who wanted an assistance to perfect the running of Business Education in his university. He approached me because the other two lecturers on ground were from the Polytechnics and Colleges of Education. No University exposure.
"I took an appointment with KWASU based on the understanding of adjunct lecturership (see attached letter marked annexure 'A'). One can observe that the letter lacks the basic conditions and terms of employment for a full time appointment. The remuneration was not also attached. The Vice Chancellor actually wanted me to assist in perfecting Business Education which was running it's second year and was not listed for NUC's initial program accreditation, and also help in recruiting younger academics for the programme."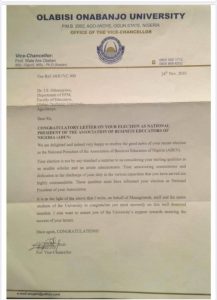 The release stated further, "I took the adjunct job because of my determination to sustain Business Education as much as possible in universities in Nigeria especially the south west during my tenure as the National President of the Association of Business Educators of Nigeria (ABEN).
"I was fully on ground for KWASU even as an adjunct lecturer because my home university; Olabisi Onabanjo University was on industrial strike.
"As soon as the industrial strike in OOU was over and I could no longer cope with KWASU services, I gave a letter of resignation dated 1st March 2011 (see annexure 'B' attached). The letter was never acknowledged to date, rather pressures were mounted on me that the university registry has been complaining that an adjunct
position ought not to have been given to anyone below professorial cadre like me. It was on this premise that I was invited for interview for the Readership position .
"The story did not stop there, I was summoned to a meeting again by the Vice Chancellor to pressurize me to leave OOU fully for KWASU which I bluntly refused since I have just
designed the MEd and PhD programmes in OOU and I was the only one on ground handling the core courses. Any attempt to leave will kill Business Education in OOU. My final departure from KWASU fetched me a letter later requesting for a refund of all salaries and allowances paid to me during my stay with them with a claim that I got the job illegally. I paid all, as requested, including all tax earlier deducted to fulfill all righteousness. . I was never sacked I resigned and paid them off afterwards."
Read remain part of the release below.
TASUED ISSUE
My first contact with the Tai Solarin University of Education (TASUED) was in 2005 when I was offered a sabbatical job as a Senior Lecturer in Business Education in the Department of Vocational and Technical Education. It was also a personal invitation then by the pioneer Vice Chancellor who was desirous of running a good Degree in the lucrative Business Education in the new university transmuting from a college of Education. I became the Head of the Unit and was able to fine-tune Business Education in the young university. I left at the expiration of my one year tenure for Olabisi Onabanjo University that was also looking for someone to help secure NUC accreditation.
Towards the end of 2008 again, TASUED had problem with accreditation this time in the Department of Economics (Business Management Unit) and I was invited again and offered a part time appointment as a Senior Lecturer (see attached letter dated 23rd August 2008 Annexure 'B'). While I remain a Senior Lecturer in Business Management in the College of Social and Management
Sciences, the College of Applied Education and Vocational Technology of the same university would not let me go. I was also appointed an External Examiner for Business Education for the 2008/2009 and 2009/2010 sessions (Annexure 'C').
MY ABORTED RETURN TO TASUED AS A FULL PROFESSOR
My quest to get to the peak of my academic career in Business Education necessitated my response to the advertisements on the National Dailies by TASUED in my letter of application dated 2nd February, 2011. (Annexure 'D').
My application was actually summoned by the Visitor and Proprietor of the University, Otunba Gbenga Daniel, the then Executive Governor of Ogun State. The governor got attracted to my paper on Business Education as a Synergy for Poverty Alleviation and socio-economic viability in the Southwestern Nigeria and wanted me to do something in my area of specialization with TASUED, his baby, hence the Executive approval of my professorial chair as a minute on my application under reference to the Vice Chancellor.
The university responded to my application by giving a letter of appointment as a Senior Lecturer (a position I never applied for, and which I have been occupying since 2005. This was dated 30th March. 2011 (Annexure 'E'. I was persuaded to accept the offer in the interim to allow for proper processing of the visitor's approval of my full professorial chair. This I did but never resumed till date.
I was waiting for the Visitor's approval to be processed , I am not aware of any other letter written to withdraw an earlier one of 30th March 2011 or another one offering me a job as approved by the visitor.
One thing I remember, the university management invited me for an interview for the position of a Reader/Associate Professor which I never applied for after the exit of Otunba Gbenga Daniel. I attended this interview to put my skills to test for a higher academic position. The outcome of the interview was never known or communicated to me till date, I still earnestly await it.
I am also yet to receive any letter booting me out of any of the universities where I worked for forged certificates.
Annexure 'F ' and ' G ' speak about me in Olabisi Onabanjo University.
E-signed
Professor Joseph Sunday Odemuyiwa