Engr. Afisu Olabimtan is an Ilaro-Yewa born property developer based in the US and founder Afisu Olabimtan Foundation.  In this no-hold-bared interview with AbuSatar Hamed and Simeon Fakeye, the Chairman of Yewa Frontier Hotel, Ilaro-Yewa opens up on his journey of life and service to humanity. Savour it!
Who are you sir? 
I am Engr. Afisu Olabimtan; founder of Afisu Olabimtan Foundation and Chairman, Yewa Frontier Hotels
Towards the 2019 Oronna Festival, we spoke with the Paramount Ruler, and he talked about development in Yewaland, Ilaro precisely, he mentioned your name, and said what you are doing is not to make profit, but as a way of supporting the developmental projects in Ilaro and Yewaland, so we want to know, what really is prompting you towards the giant strides?
I thanked you for asking. It is all about giving back.  I am here from Ilaro, and this is my forty-fifth year in America. I have been in America since 1977. After I achieved so much success in America, I believed and realized to give back just like every other American do, giving back to the community.
You see, money is for one purpose; to grow people. I think where a lot of people missed the boat is that they think the money is for them alone. Life is not about you, it is about us.
Once I began to realize that, it was coincidentally the same time I met with Olu of Ilaro & Paramount Ruler of Yewaland, HRM Oba (Dr.) Kehinde Gbadewole Olugbenle MFR, Agunloye IV, before he even became the king. He wanted me to give my support to redevelop CMS, and I looked at it and said no, I am beyond that, find me a place where I can do something big. That's how we started.
Oba Olugbenle also mentioned that part of your plans is to build a first class medical facility, how are you going to get the bulk of money spent in return, I don't want to be pessimistic, considering the financial capacity of Yewaland?
It's already been done. As a matter of fact, everything is done. When I was considering the project, I asked what the community really needed, and I was told that the medical condition of the hospital is not good. Infact, my dad died at the hospital. So, I knew the hospital is lacking in medical facility, so I said it is time to do something about it.
On how the clinic should return the huge investment?
The King is right when he said I am not doing it for profit. I started investing in Nigeria long time ago. My brother can tell you, whenever I came to Nigeria, I used to feed people, asked them, what do you guys need, and I will give.
Twenty years ago, I am a developer in America, a friend of mine says why can't you come to Nigeria and do something? So, the first project I did was in fifteen years ago (2006), we opened our first apartment complex in Victoria Island which gulfed a lot of money. With that, we invested in another big project in the same Victoria Island. My whole objective has always been, I don't need Nigeria money.
So, when brother wants to continue on the Estate Developing project, I said, no, go back home and let's do something for the community. As I said, it is not all about money, we need to do something.
The way that the hospital is going to work is that whatever money they are able to generate from the income of apartments or from whatever other sources are going to be used to support the hospital in addition to other things we want to do.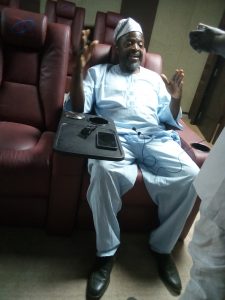 Let us dwell more on the facility under which we are sitting, here we are in the theatre section of the project, how is it going to be utilized, what is your motive for this theatre, bearing in mind this is Ilaro?
Again, you know, as Yoruba would say, Ile la n wo ka to somo loruko. Once I, because I am a designer, I am civil designer by profession. When I designed this in my own head, I think we can do two things in one. This is going to serve as a movie theatre. The equipment has been brought in. When it is opened, it is going to be a magnificent. It is going to be the best cinema with equipment that can blow minds.
But I also have a place for people to have a kind of auditorium like we have the other day. We need to have an auditorium; facilities where people can come gather to have meetings, and also, the entertainment. So, it is going to serve two purposes. To host concerts and this place holds about Two Hundred & Fifty.
Let us dwell more on the Cinema part of this edifice, how is it going to be of value to Yewa people, as we don't have a lot of artistes or producers here, who can act or produce premium films that could be premiered? 
It is not for us to do that, this is studio that we have built which is the part of the Entertainment section.  But the purpose of this is to bring here blockbuster videos, good movies to watch. My aim is when people come to this facility; I want them to have the state of the art studio. It is going to serve the purpose as a Cinema and a theatre.
What are the likely departments of the hospital? 
Well, what I started off with was a clinic. So, I said, let us start with a clinic; we have eight rooms, you guys have to see the rooms. There are places where you can do ex-ray, laboratories, and now we have agreed to add rooms where we can actually admit patients. We just have those discussions today.
Sir, we hope it will also accommodate the less-privileged in view of our economic situation, right?
And that was really my purpose initially. One of the things that I thought about is, we are going to create a facility where, for instance when Ebola breaks six years ago, I told people, I said, this is a problem.
Another thing was the Corona Virus. Where would our people go? So, we have to have a facility, so that when I want to send help from United States, it will be sent to where our people will know to go, and this is a place for that.
The game plan is that there should be an open space outside, and the third phase is going to be built there. Hence, when the facility has been utilized, then you plan the next.
On Thursday, December 30, 2021, when you are being presented with an award by Yewa People Development Council, some of our friends, journalists asked questions, wanted to know if the structure is privately owned, and I told them that the facility is owned by Mr. Afisu Olabimtan, a Yewaman. They were like wow, and I felt their feelings. You know as a Yewa person, yes we are getting there. Sincerely, we are proud of you sir, we are proud of this facility. But do you have friends who can emulate you?
Yes, I live by example which is one of the best qualities any reasonable person should imbibe. It takes me a lot of time, even my friends were scared of coming home. I bought a house in Abeokuta when they said I shouldn't come to Ilaro. When I came to Lagos, I told my mother that ile omo ki i ba omo leru. Agoro ni won bi mi si.
You know the first thing I did? Ile Agoro ti iya Iya baba mi gbe, mo ni ki Bisi tear e down. Odun meji ni won fi gbogun ti mi pe aa, ma dan-an wo. Ile oloku, ma dan-an wo o. Nigba to su mi mi o ti e wa da won lohun mo. Aburo baba mi lo wa so fun mi pe, Afisu, mo ni een, se eyi to o ba maa se ojo n lo.
The following year, mo kan pe Bisi ni, mo ni Bisi, this is the thing. I respect burial sites, still mo ni go and replace it the way it was ni Agoro niwaju Oronna Hall. Ibi temi gbe dagba niyen. Iyen la ko tun se. So when people are seeing things big, to o ba bere nibere kekere, you don't have to be a billionaire before you do big thing. Mo ti pade Dangote ri. A tie soro yen ngba ta a n bo yii. You can do small thing. Awon oku orun yen gan-an, ngba ta a wa ko o tan, mo ni ki le wa ri si i nisin? 
Teletele won maa n gbe mi pamo ni. E o le maa gbe mi pamo. Mo ni won o bi mi si Abeokuta. E je ka lo si Ilaro ka lo tun nnkan se.
And by the time I come to Ilaro, I am really impressed by the improvement temi gan-an ti n ri. Gbogbo ile to wa ni iwaju ita yen, ko si ikan ti won ko ni five years ago. It is because when people see good thing, won a appreciate e, won a si follow e. Iyen la n pe ni Monkey see, Monkey do. Apeere la gbodo maa fi lele fawon eeyan. Kabiesi so lojo yen pe Aje Ilaro, won o mu eje mo. O ni waini pupa ni won n mu. Ooto lo so now. Ko si Aje kankan nbe. 
You said, you are going to retire in the next two years, are you planning to go into politics?
Ahhh, no, no, no. I don't have appetite for that. Even in America, many people don't understand me, perhaps because of my humble nature. I don't just have the appetite for politics. It doesn't fit me. I cut things dry. I will always tell you the truth. Not those politicians are bad, but they can't just handle the truth. It is not in my blood to involve in politics. I can't happen.
Will you like to tell us about your childhood?
Aa, papalanko odurogiri omo Olabimtan. Ipata la se dagba. But the love that I enjoyed, I don't think any child can have the same privilege, because my grandmother indulged me so bad. My grandpa would feed me to the brim because of the love. The reason I have been giving back to the community it is not so much about any other thing. Not only my parents, but grandparents, uncles, cousins, and neighbours who would joyfully accommodate us.
America is rich, but there is no love in America. This place has what we call love, that is why I want to give back to the love.
You have been in the US for forty five years, here at home sir, our cultural values are been eroded by the civilization championed by America, in my opinion, US based Nigerian children are the agent, what is your take sir?
You know, the culture is very important, even in America. Everyone wants to belong to success. As I always say, slavery is one thing that really tarnished the image of black people. Slavery messed everything up. But as black people, it doesn't matter where you are from, we are the same people. So, we must embrace what is ours as a people.
My take is that you should take pride in which you are and let your children have that belonging. Don't deny who you are because you want to belong.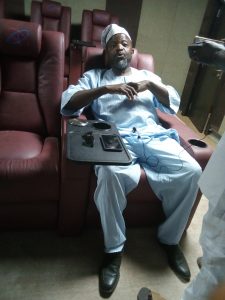 You don't want to be a politician, but Yewaland is facing a serious challenge in terms of governance, what do you think can be the way out?
I will say it the way it is. If you don't want me to come home, I will not come. What is really facing our people is that we need to stand up and be bold.
The reason I am successful in America is because of my boldness. I am bold. If they place ten things down, I wouldn't drag it with them, I will just instruct them to separate my own before sharing. We need to be bold. I jokingly said, you have three senatorial district, and for forty years of the state existence, you have not sit on the no 1 seat, and you are waiting for the goodwill of the other two.. What do you do; You sue them?
Listen, we bought a piece of land in Victoria Island from Oniru family which the Lagos State Government claimed. The family sued the government, and at the end of the day, the family won, and the land becomes the Oniru land. That is boldness.
Look, I sue people for fun. If you commit blunder, I sue you. That is when they respect you.
Your message to Nigerians?
My message to people is go out and live their dreams. Infact, to youths, I always urge them to follow good example. They should make plans to be relevant. Don't idolize politicians, don't idolize people who have money but don't know how to spend it. Be like Ayinla Omowura who says ka lowo lowo ko tun da bi ka mo on na. (he who has money, but don't spend, shame him).
And I will like to commend my brothers; Bisi and Mufutau. There is one thing, to have someone reliable. For a long time, I used to be ashamed to claim that I am a Nigerian in America because of all the bad reputations. We need to start changing now. Let them start seeing us in a different light.
That project is going to be carrying the function of charity. Those people who can not afford to see doctor would have nothing to worry about. I for one have no intension of taking money. The money I have in America is more than enough. So, my hope is the projects here can be self sustaining, meaning that the foundation can rely on the incomes from the investments.